Suddenly the road loses the plot. Deep holes spread like a rash, then become pits that expand into missing sections filled with rainwater. An old man on a mule saunters past, unsmiling. The landscape remains the same: rolling ranching land dotted with clumps of jungle, banana and bamboo, though the houses are smaller, and poorer. The neatly painted homes of earlier in the day give way to wooden shacks. Chickens, dogs and children scratch around them. Under a thatched roof someone dozes in a gently swaying hammock. The car drops a wheel into a hole with a sickening crunch.
Panama is a neighbour to Costa Rica, and the two countries share many features, including some of the most biodiverse forests on Earth. According to UN figures, Panama has about 4.2m hectares of forest, Costa Rica 3m hectares. However, stepping across the border a few days earlier, I was immediately made aware of differences. Panama seems sharper. There's more traffic on the Pan-American Highway, garish adverts in the towns, and US-style shopping malls. Signs of consumer wealth, however, are matched by those of poverty. Now I am seeing another difference: Panama has more Indigenous people – almost half a million from a total population of about 4.3 million – and one of the trunk roads into their main rural area is disintegrating in front of us. Eventually, we pull up outside our destination and a young capuchin monkey runs out, vaults up my leg and nips me on the arm. It doesn't draw blood, but it's not much of a welcome.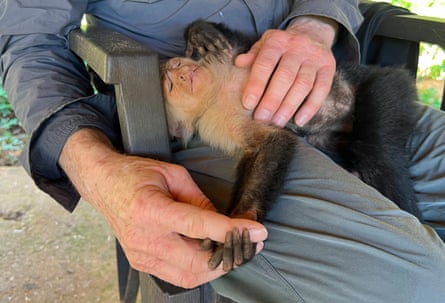 I'm on a trip through Central America, flying into the Costa Rican capital of San José and out from Panama City, travelling overland between. Long-haul flying demands serious justification and I am hunting the kind of projects and places that make a good case for benefiting, or even saving, some of that unique environment. In Costa Rica the basic framework set in place by government – numerous large national parks and solid environmental protection laws – makes finding and pursuing new eco-projects much simpler. In Panama, things can be quirkier and more home-spun – a lot more depends on individuals. This trip is all about special individuals, one of whom I am about to meet.
For the past 10 years, a community worker, Willow, has been trying to kickstart tourism in Ngäbe-Buglé, one of the five comarca indigena, indigenous communal areas, but it is an uphill struggle. "People here don't know what the benefits might be. They are wary." That wariness is understandable. Indigenous contact with outsiders for the past four centuries has not been a success.
We walk across a girder bridge spanning the local river, accompanied by Toto, the capuchin monkey, riding on the back of his favourite dog. (That hostile start to our relationship has led to a peace agreement: if I tickle Toto's tummy occasionally he will groom my beard). The village of Soloy is busy: women in traditional long blue dresses embroidered with geometric snake patterns, men in jeans and T-shirts. "The men abandoned traditional clothes some years ago," says Willow. "We believed it would help us be accepted into Panamanian society."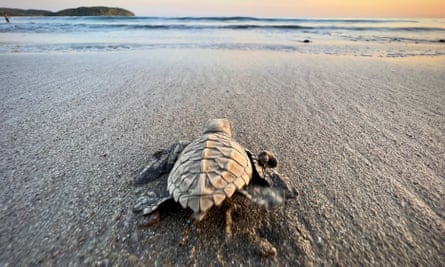 I'm struck by the idea that men and women could take collective, and separate, decisions about something as individual as clothes.
"Has it worked?" I ask. "Are you accepted?"
Willow laughs, "No."
Only a few weeks before I arrived, this community had blocked the Pan-American Highway for a month, extracting promises for better schools and roads from the government. Coming to stay here feels like an act of support, but will it be enjoyable?
Slowly, the sense of dislocation and stilted formality disperses. Toto proves to be an ice-breaker, nestling in my lap when we sit. An old lady shows me how she weaves hammocks. Another performs a welcoming cacao ceremony and, unexpectedly, tells how she came to convert to the Bahá'í faith. Then, Willow plays a trump card: he takes me to his local waterfall, Kiki, a jungle torrent that we walk behind on a rock ledge, emerging in a cloud forest. At a small homestead nearby, we meet his mother, sitting in the shade next to a hammock and a traditional fireplace. She is in her late 70s. I ask how life and the environment have changed in her lifetime. She speaks in Ngäbere; Willow translates. What she says is unexpected.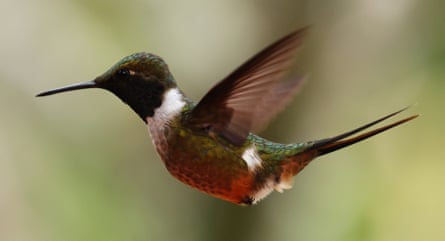 "When I was a girl," she says, "Life was not good. There was a lot of drinking, gambling and domestic violence. The forest and the rivers were in bad shape, too. Then in 1962, a local woman, Delia, started having visions. She saw aliens and Jesus riding down from heaven on a motorbike. She said that if we did not change our ways, Armageddon was coming and all the Indigenous would die. Only the whites would survive."
The visions had lasted 12 days and, along with thousands of others, Willow's mother trekked for two days to witness the prophecies. The territory had gone wild with excitement. When the visions ended, Ngäbe Buglé life was transformed. Mama Delia had outlawed alcohol, wife-beating and polygamy. There was renewed pride in their language, and in caring for the forests and rivers, a pride that led to the formation of the comarca indígena, a self-governing area of 2,690 sq miles. Now, the struggle is to stop destructive exploitation of the land – particularly through hydro schemes and copper mining – while lifting the people out of poverty.
In Britain we grow used to hearing eco-saviour stories: rewilders, green energy gurus, sustainability projects and so on, but I've never heard a story like this. Back in the village I notice the clouds of butterflies, more than I've seen elsewhere. Along the river the birdlife seems richer and more varied. The shops hold only basic items and everyone keeps chickens. There is a lot of litter. It feels like there is a struggle going on, between a consumerist lifestyle and traditional values. My bed that night is in a neighbour's house. Their possessions are piled in a corner and there's nothing traditional or homemade about them. I suggest to Willow that they should build a cabin for tourists, but he explains: "I want visitors to stay with people. The community needs that contact with outsiders."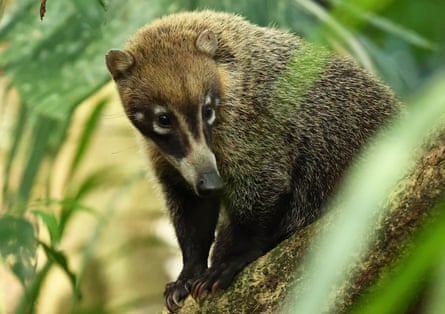 My next experience could scarcely be more different, but at its heart is another remarkable individual, also working hard for conservation. Mount Totumas is on the edge of La Amistad national park, which straddles the Panama-Costa Rica border. It is one of Central America's most important, and unexplored reserves. When Jeffrey and Alma Dietrich came here from the US in 2008, this was an over-grazed ranching area right up to the jungle edge of the park, but they have made a 160-hectare (400-acre) buffer zone rich in wildlife, and employ the ranchers as guides.
One of those guides, Reinaldo, takes me on the steep track into the cloud forests of Mount Totumas. This is a world of mysterious veils: pale wisps of cloud and golden drapes of lichen. The rare Costa Rican pygmy owl responds to Reinaldo's hoot and flits past. On the summit are micro-orchids, no more than a few millimetres across. The bird list for this place is almost as staggering as the collection of wildlife books that the mountain lodge contains, but the rarest wildlife gems are almost never seen. Jeffrey shows me trail camera footage from near the lodge: "Watch the time code," he says. "Same day, same camera."
9.46am, puma stalks past. 10.54, a jaguar pauses to stare at the lens. 11.33, two tourists amble past, chatting.
"The previous owners allowed hunting," says Jeffrey. "And for the first six years our cameras never recorded a jaguar, but now they are back, and a regular sight, at least on the trail cameras. We know from spot patterns that there are three regular visitors."
Simply walking the trails, knowing that the big cats are around, is exhilarating, but my favourite spot is the hummingbird wall, where orchids and bromeliads that have blown from the trees are stacked. I sit beside it and feel the wing-draught of dozens of hummingbirds, some, like the woodstars, weighing less than a teaspoon of sugar.
Moving on down the Pacific coast, I meet more individuals bringing environmental gains. On Palenque island, locals are being trained as wildlife and kayak guides. Further south, on the Azuero peninsula, I meet Nico Nickson and Fabi Mangravita who moved here from Panama City in 2004 to build the Eco Venao surfers' hostel. Behind the beach the land is cattle country, but there is a long dry season and the hills offer only a meagre living. The couple set about reforesting, encouraging local ranchers to join in. Now there are new forests full of birdlife, where you can ride or hike, and an organic permaculture farm that supplies the hostel's cafe.
The reforestation scheme is now expanding significantly through the Ponterra Azuero project, paying ranchers an annual stipend. It only takes about five years for the over-grazed hills to be covered in woodland tall enough to allow the cattle back in, by which time the environment the herd encounters is richer and permanently established. On the beach there's superb food and a laid-back atmosphere that bursts into life during my surf lesson when a pod of humpback whales starts leaping around. There is also a turtle sanctuary where visitors help collect eggs into a safe zone, then later help hatchlings get to the waves.
My final stop en route to Panama City is the canal, a site I'd imagined might occupy an hour. I was wrong. This engineering marvel is worth exploring. There is a fascinating museum in Old Panama City (stay at the Las Clementinas), but the real pleasure is to head down to the small town of Gamboa and see the world's massive ships glide through the rainforest.
The original canal was opened in 1914 and needed vast quantities of water to run its locks. With new, larger, locks added in 2016 that volume has increased and protection of the jungle around the canal has become vital. In 1980 a rainforest reserve, Soberanía, was created and inside the reserve at Gamboa, the Smithsonian has been monitoring it ever since, gathering data on how the forest is changing.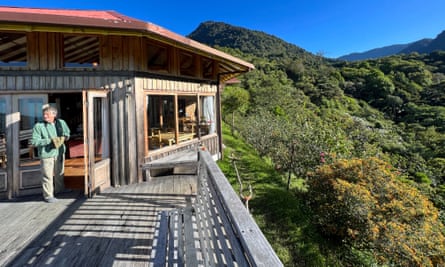 From the small town by the canal, I walk down Pipeline Road, a 10-mile track through the 20,000 hectares (nearly 50,000 acres) of national park restored by energetic local residents. A guide seems unnecessary as there are plenty of local birdwatchers and walkers around, all keen to point things out. I see anteaters, coatees and various birds, but it is the Smithsonian's rainforest canopy tower that is the real star. Up top, above the canopy, toucans are gliding across treetops dotted with howler monkeys. When I imagine the devastation that canal construction must have caused more than a century ago, this tranquil haven of wildlife, created almost by accident, is a beacon of hope.
The trip was provided by Sumak Travel, which organises tailor-made trips to eco-projects and environmental organisations across Latin America. A private eight-day tour, including Mount Totumas, Boca Chica and the Azuero peninsula, starts from £1,625pp, based on two sharing, including accommodation, guides and transport, plus some meals. Excludes international flights. The book Birds of Central America, by Vallely and Dyer (Princeton University Press), covers Panama and Costa Rica. Holiday Extras can book airport parking, lounges and hotels, plus arrange travel and medical insurance