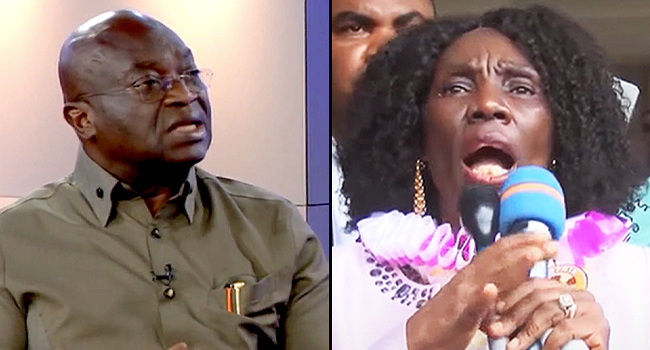 The governor unequivocally stated that Nannaya-Oti was unfair to all the parties that participated in the exercise, claiming that she was "visibly happy" that she "favoured" the Labour Party.
He made these allegations while speaking on Channels Television's 'Politics Tonight' programme on Thursday, March 30, 2023.
Recall that the Returning Officer had on March 22, 2023, declared the Labour Party candidate, Alex Otti, as the winner of the Abia guber poll having polled a total of 175,467 votes to defeat his closest challengers, Okey Ahiwe of the Peoples Democratic Party (PDP) and Enyinnaya Nwafor of the Young Peoples Party (YPP) who scored 88,529 and 28,972 votes, respectively.
The declaration was eventually made after INEC had suspended the results collation exercise for over 48 hours following disputes over results from the Obingwa Local Government Area of the State.
About two days ago, precisely March 28, 2023, Nannaya-Oti disclosed that she was threatened, pressured, and also rejected a huge monetary offer to compromise the results collation.
But, Ikpeazu, whose candidate and party man, Ahiwe lost the election, told Channels that the Returning Officer's claims were "unfortunate."
He said he had carried out some background checks on Nannaya-Oti before the election and filed a complaint to INEC that she won't be fair in the electoral process but got assurances from the commission.
Ikpeazu's words: "This is very unfortunate. I have not met that professor and I am shocked because in the first place if she is a professor, she doesn't even have the capacity to manipulate results because these are results that emanated from the units, collected at the wards, collected at the local governments and brought for her to just add them up and announce.
"I've not met her before; I've not spoken to her. If I have met her, if I have spoken to her, let her come to the public and declare so. So, I am shocked that she is making a big noise out of nothing."
Justifying his allegation against the Returning Officer, who is the Vice Chancellor of the Federal University of Technology, Owerri, Ikpeazu said the coincidence in her name and that of the Labour Party candidate convinced him that she would be "unfair."
Ikpeazu added: "At some point when I saw the coincidence in name and trace a little bit of her background, I complained to INEC that this lady was not going to be fair but they assured me that they profiled her. I am still shocked."
"What she has betrayed in the aftermath of her service or stewardship in Abia, indicates that fact that she is visibly happy with what she did. Her level of bias in that regard could be placed in favour of a party.
"She has betrayed that she has something at the back of mind before she came."