Whenever I brought friends from the UK home to Moldova, I always wanted to show them the countryside and its traditions, its beautiful hills, the stone-age settlements at Duruitoarea Veche in the north, and Lake Beleu in the south. I would rather show these off than my home city. But, I have now come to love Chișinău (pronounced Ki-shi-naw).
This is partly because I have learned more about the architecture of socialist modernism that dominates the city, and partly by seeing it through the eyes of visitors who experience the great food and wine, the charm of the low-rise buildings, and the abundant greenery.
Neighbouring Romania and Ukraine, Moldova was annexed by the Soviet Union from Romania during the second world war. In August 1991 it declared independence, but 1,500 Russian troops remain stationed in the breakaway region of Transnistria, east of the Nistru River. The FCDO is currently advising against all travel to the Transnistria region.
From April to October, Chișinău's spacious streets are adorned with the crowns of plane, acacia, chestnut or linden trees, and there are seasonal fruits and vegetables to sample: cherries in late May, melons in August and watermelons, until the hoar frost sits on the last grapes and tomatoes of October. The local wine goes into production in autumn. Once one of the Soviet Union's main wine providers, Moldova has a wine-making tradition that dates to 3,000BCE.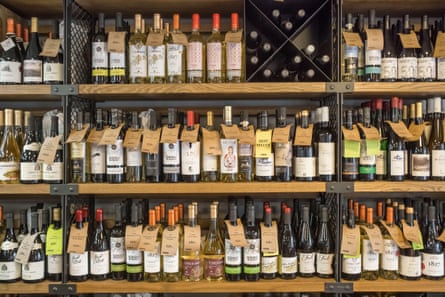 History and politics – from the Russian and Soviet eras, the Romanian inter-war period, to the post-1991 independence struggles for democracy – are evident in every corner of Chișinău. In 2013 the airport was ceded – through a controversial move – to a company controlled by local and Russian oligarchs. It is now back in state hands.
The central railway station is designed in the Russian-Imperial style. Trains arriving from Romania have to stop at the border and change wheels in order to fit the larger Soviet-gauge tracks – because Russia wanted to vet the trains that entered their country. Moldova dedicated a Eurovision song to the friendship (prietenia) train from Bucharest to Chișinău, with Romanian-Moldovan unionist lyrics: "Seems like one, but also two / Both together and apart / Are there two? Or just one part?
On Chișinău's central street, Stefan cel Mare si Sfant Boulevard (named after the former prince of Moldavia, Stephen the Great), most buildings were built by German prisoners after the Soviet occupation in the second world war. During the conflict, many were destroyed, either by retreating Soviet forces or by Soviet bombardments.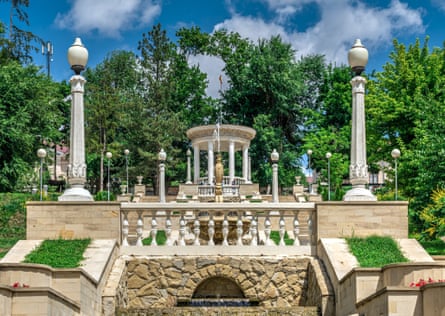 South of Stephen the Great, the streets run straight, conforming to a Russian-Imperial style. The neoclassic Byzantine-style cathedrals of Saint Theodore and Saint Panteleimon are here, as well as the National Art Museum, which was restored by the Romanian government, and which has permanent collections of local medieval and modern artworks, as well as temporary exhibitions. The Brancusi gallery often has local contemporary art shows. Either side of the lake Valea Morilor and Dendrarium park, the Jewish and Armenian cemeteries stand proof to Chișinău's multicultural history, marred by the 1903 pogroms.
North of Stephen the Great boulevard are the visible remains of the radial structure of the city, which date back to the medieval era. This is when Chișinău morphed from a village into a merchant town, part of the Moldovan principality (more than half of which is now in Romania, with southern and northern regions in Ukraine today).
The Central Market is a celebration of local fruits, vegetables, cottage cheeses, walnuts, honey and pickles (including pickled watermelon), next to stalls selling everything from cooking pots to curtains. A few streets away is the house in which Alexander Pushkin lived while exiled by the tsar for three years in 1820 (although he hated the city and wrote some offensive poetry about it). The museum gives a flavour of 19th-century Chișinău architecture and has a collection of materials related to Pushkin's life, as well as editions of some of the works he wrote here.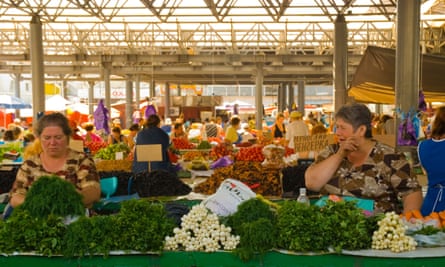 Classical concerts are staged at the Organ Hall and the Palace of the Republic, and there's modern music and events at Artcor, the Queer Cafe at Muzeul Zemstvei and at the outdoor amphitheatre Teatrul Verde.
Moldova has the biggest wine cellars in the world. Storing 1.25m bottles, the Cricova winery is essentially an underground town on the outskirts of Chișinău, with roadways spreading more than 74 miles (120km). Moldovan wines include the reds rară neagră and fetească neagră and the whites fetească albă and fetească regală, but international varieties, such as chardonnay, sauvignon blanc, traminer, pinot noir and malbec are also staples of Moldovan production.
In Chișinău you can sample wines by small and large producers alike at Plin cu Vin, Embargo, Purcari, Wine.md, Invino, Decanter, 513. Try out Ukrainian cherry liquor at Piana Vyshnia, cocktails at Marlène, or locally produced beer at Taproom 27. For coffee and desserts, you can't go wrong at Sincer, Délice D'ange, Crème de la crème or Bunătăți de la Marika.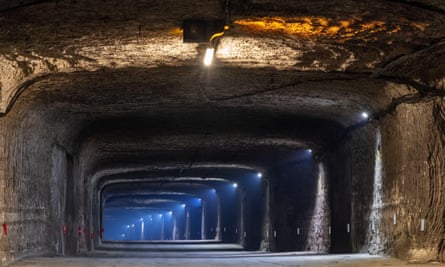 Traditional Moldovan cuisine has Greek and Turkish influences, in the form of pies, dumplings, stuffed peppers, roasts, polenta or stuffed vine leaves. That's because for 400 years, until the 19th century, the Moldovan principality was a vassal to the Ottoman Empire. In my mother's bestselling cookbook, Moldova: people, places, food and wine, there is also Jewish, Ukrainian, Austro-Hungarian, Bulgarian, Tatar, Roma, Gagauz and Russian inspiration: "It would be a shame to pretend we haven't all been stewing in one and the same pot for centuries," she writes.
Meat-heavy dishes, as well as vegan ones (called mâncare de post, or Orthodox Christian fasting dishes), can be sampled at Sălcioara, La Taifas and Acasă la mama. For haute cuisine with a local twist there's Fuior or Berd's, while for cheaper options eat at the La Plăcinte chain.
An hour's drive from Chișinău, Orheiul Vechi (Old Orhei) is a landscape of gorges, medieval cave monasteries, Tatar baths and Geto-Dacian fortress remains, as well as the Casa satului museum: a traditional 19th-century peasant home. It gets busy at weekends, but you can also stroll through the neighbouring Morovaia and Trebujeni villages, where you will be greeted with Moldovan hospitality – like the Brad Pitt lookalike in this clip.