Good morning and welcome to Wide World of Sports' coverage of tennis with updates from the Adelaide International and Sydney International on the way as well as the latest from qualifying for the Australian Open.
One player who will be in action is Bernard Tomic, who has called on the public to get behind him as he attempts to rebuild his career.
The controversial former world No.17 was tipped to retire after a run of bad losses that saw him he go down in a string of qualifier events.
He hasn't played in an ATP tournament since September, when he retired in the first round of a qualifer event in Kazakhstan.
However, the former tennis prodigy has opted to push on and apply a new focus to seldom seen in years, announcing on social media that he's back and ready to resurrect his career.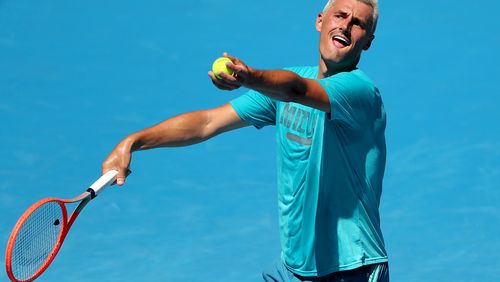 His revival starts today when he takes on Russian Roman Safiullin for a chance to qualify in the main draw next week. Safiullin impressed playing for Russia at the ATP Cup and Tomic knows he has a challenge on his hands.
"I feel really good," Tomic told the Herald and The Age. "I feel like I've settled in because I've been at the AO for a few days now. I feel really relaxed. I'm happy in myself. I'm happy to be here.
"I feel like it's one of the toughest matches in qualifiers that I've been drawn. We both qualified last year, so it's a tough challenge to get him first round.
"I've trained with him before, and I'd like to think that playing me is not something he would want in the first round of qualifiers. He's such a hard worker and doesn't let anything go. He's beaten [Andy] Murray and had a very strong start to the summer, but hopefully I can get up and get the win."
Tomic said he hopes Australian sport fans can put his past indiscretions behind them and cheer him on.
"I just want the Australian public to get behind me," Tomic said. "Hopefully there are some people who want to come out and enjoy a free day of tennis and show their support. It'll be nice to play in front of them again."