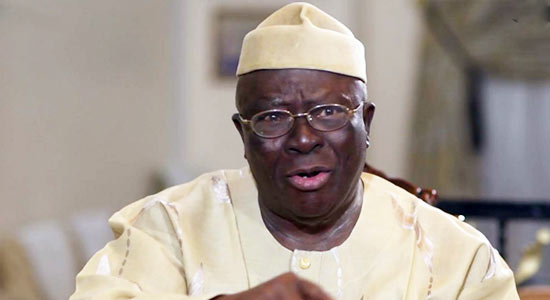 Adebanjo, therefore, urged the former Lagos State Governor to save himself the humiliation of losing at the polls because Northerners will not vote for him.
The nonagenarian also called on the APC presidential flag-bearer to drop out of the race and endorse his Labour Party rival, Peter Obi.
Adebanjo stated these at the presidential campaign rally of the Labour Party in Abeokuta, the Ogun State capital on Saturday, February 4, 2023.
The Afenifere leader, who had in his company Senator Femi Okurounmu, restated his conviction that Tinubu will be let down by northerners at the crucial time.
Adebanjo's words: "All those that know Tinubu should tell him, I have always told him and I will tell him again, the northerners will not vote for him.
"He (Tinubu) should come back home now and support Obi because when they finally defeat him, he won't have the courage to come back home again, if he comes back now, we will forgive him and take him back.
"I have told you before and I want to say it again, Labour Party is now NADECO, those of us supporting Obi are the ones that want good governance, we want Nigeria to be better, we want to liberate ourselves from the captivity of the ruling class.
"We are behind Obi, leaders of progressive movement are behind Obi. Those fraudsters parading themselves as Yoruba do not love the country. Yorubas do not take things that belong to other tribes. A Yoruba has been President before."
On his part, the Labour Party presidential candidate who had earlier made a stop at the palace of the Alake and the Paramount ruler of Egbaland, Oba Adedotun Gbadebo, also attended a town hall meeting held within the premises of the Olusegun Obasanjo Presidential Library.
While addressing the youths at the gathering, Obi described Nigeria as a failed state and one of the most unsecured countries in the world which no longer has full control of its territory.
Obi's words: "For me, I have served the people of Anambra State and was rated as number one in the implementation of the Millennium Development Goals and the records are there. Even in the areas of education and taking people out of poverty without borrowing a Kobo from anybody; I paid all the pensions being owed before I assumed office.
"So, let presidential candidates come out and show Nigerians what they have done in the past before aspiring to govern the country.
"We are determined for a new Nigeria. We want people who are confident, and who are qualified for the job. This year's election is very essential, we can no longer be comfortable with incompetence. We want people who will show commitment; this job requires physical and mental energy. So, we want people who are ready for the job. Myself and Datti want to change Nigeria.
"I and Datti want to change Nigeria; we are the only set of people that can do that. We have the capacity to do that and that is why we are saying that you should entrust us with the country, and we will make it a great country. Hold us responsible to deal with this matter.
"Nigeria is a great country, but we have all allowed it to be in the hands of the few who do not know how to manage it. Your Majesty, that is why we are here to plead for your blessings. We know that no royal father goes into politics, but when your subjects are dying and if you don't intervene, one day, they will come for you for there is no alternative, please, save them."