Towards the end of Maryland, the recent ITV drama set on the Isle of Man, there is a view of the town of Peel. White buildings curve round a sandy beach and a causeway runs below tumuli-topped hills. The ruined walls and circular Celtic tower of Peel Castle stand on an island in the Irish Sea.
Maryland was actually filmed in Ireland, though establishing shots such as this, to set the scene, were done on the island, and they do capture the atmosphere of the place, its separateness and stories, its beaches and beauty.
You don't have to fly to the Isle of Man; you can take a ferry, which is what I'm doing after arriving in Liverpool by train on a day of late spring sunshine. As I walk from Lime Street station to the ferry, the Mersey gleams, gulls call, a tuneless busker strums Here Comes the Sun, and girls in summer dresses take selfies with the waterfront Beatles' statues.
On the seaside promenade in Douglas, a 2½-hour boat ride away, the same sculptor, Andy Edwards, created three bronze Bee Gees in 2021. Behind them, a castellated Victorian tower rises from a rocky island and cormorants dive sleekly into the waves.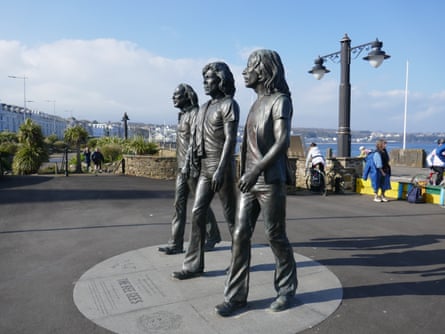 There's more here than tailless cats, financial services and motorbike races. The Isle of Man (also Mann), birthplace of the Bee Gees, has vintage summer trains, lashings of folklore, a 100-mile coast path, and the whole thing is a Unesco biosphere. This compelling image of a legend-rich eco-haven in the Irish sea has brought me here. The Manx Electric Railway, a seasonal tram that I catch on my first day, is 130 years old. It still uses the original Victorian carriages with their polished wood and brass and reupholstered red seats.
The railway runs along undulating coastal headlands and through tunnels of gold-flowered gorse; the whistle blows to clear a feral goat from the tracks ahead. I step off at Ballaglass into the smell of wild garlic and the sound of rushing water from the glen below. For the next half hour I wander beside deep clear pools and waterfalls, through mossy woods full of birdsong and bluebells. There's a carved wooden figure called the Wizard of Mann, studded with large bracket fungi like an old tree.
Joining the coast path, I follow blue signs with a gull logo along the raad ny foillan (way of the gull in Manx Gaelic). They lead me down quiet lanes and past a neolithic burial cairn on a windswept hillside. The banks are laced with late blackthorn blossom and starry stitchwort. A huge hare lollops down the middle of the road ahead.
A collection of ancient crosses near Maughold parish church is covered with centuries' worth of carved animals, scratched runes, twisted snakes, Celtic scroll work, even a Viking ship. Nearby are several keeills, small early churches and, inside the current church, the 14th-century parish cross with one of the oldest images of the three legs of Mann (a triskelion). This national emblem, a version of a sun symbol adopted by the isle's medieval kings, is now almost everywhere: from mosaics in a rockery to plastic signs above a chippy.
Arriving in Ramsey, the second biggest town on Man, I head for the Fynoderee Distillery. It's named after one of the island's many supernatural creatures, and several of the spirits it produces also draw on Manx folklore – with names such as Glashtyn spiced rum and Elder Shee gin. "You'll have to say hello to the fairies," says a taxi driver in ITV's Maryland, driving the sisters over an old stone bridge, "otherwise it's bad luck." The tradition is real, although the bridge is a stand-in.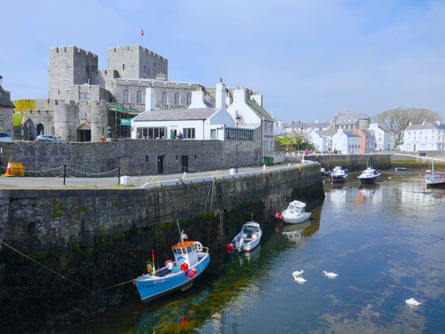 Paul Kerruish, who founded Fynoderee with his wife, Tiffany, is "Manx as the hills", as a local saying goes. The distillery is running tours for the first time this summer (£21, fynoderee.com) and Paul's enthusiasm is palpable, waxing lyrical about the iridescent colours of a copper still or the rich caramel smell of organic cane sugar. The business has expanded from a 2017 experiment in the couple's garage to this big bar, distillery and lab in an old Victorian coach station opposite the tramway terminus.
There's an evocative smell of soot and frying bacon next morning as I reach the 150-year-old steam railway, which puffs south from Douglas several times a day between March and October. Forty minutes later, I'm climbing the weathered sandstone stairways of medieval Castle Rushen, former fortress of the Lords of Man. Outside, there are striped deckchairs on Castletown's Market Square, cherry blossom overhanging cobbled lanes, and swans drifting on the Silverburn River as it flows to a harbourside lighthouse.
"Walk straight ahead for the best beach on the island," says a cheerful guy handing out maps at Port Erin station, three stops further on. This seaside village has bike hire and boat trips, in season, to the Calf of Man, a bird-rich smaller island. A tower on one green headland overlooks a wide smile of sandy bay. The water is an inviting aquamarine and I take off my boots to paddle. It's cold and clear; two swimmers in wetsuits are leaving the Cosy Nook cafe as I arrive.
This cafe-bar serves wine from Foraging Vintners and cake from a pop-up branch of the Douglas-based Noa Bakehouse. A lunchtime glass of elderflower fizz and sticky slab of ginger cake are so good I'm tempted to have another round and just sit in a deckchair watching the waves. "It's a really lovely walk, up to the tower," urges the man from Noa. And it is.
Snowbells and sea campion cascade down grassy banks towards glens of wild garlic. Rabbits nibble the bluebell-bordered path steps away and a chaffinch sings loudly from a blossoming apple tree. There are views across the twinkling Irish Sea and Port Erin's curve of white houses. Heading towards the station again, I pass hedges of wild fuchsia and elders, budding with another crop of flowers. The local idea that fairies live in the roots of elder trees seems less whimsical out here on the heathery hillside.
Dinner, back in Douglas, at the quayside 14 North restaurant, includes wild garlic, in a spring-green pea risotto, and elderflowers in a Fynoderee gin and tonic. I'm staying 10 minutes away at the Claremont Hotel (doubles from £126 B&B) in a Victorian seafront terrace near the ferryport. Not all the rooms off the maze of corridors have ocean views; from some you can see only an internal wall. However, breakfasts in the beach-facing restaurant are outstanding: a full vegan, piled with fresh veg, or coppery Manx kippers, glossy with butter and lemon.
My last morning and I finally head for west-coast Peel, 10 miles away. Bus 5 takes just over half an hour, through the green middle of the island, and passes Tynwald Hill where new laws are proclaimed at a traditional summer ceremony. In late May/early June, some of these roads close for the TT, Man's annual motorcycle race; a dedicated TT gallery opens in the Manx Museum this year.
The island's reliable all-year network of buses means you don't need a car. A Go Explore card provides unlimited travel on all of Man's trains and buses; five days costs £45 and, for an extra £22, you can add entry to all the castles and museums. The fanciful House of Manannan in Peel (adults £13, children free) has three floors of interactive displays and dioramas, from Celtic roundhouses to kipper smokeries. There are rusty Viking nails and slate gaming boards with counters made from shark vertebrae.
On a clear day, you can see as far as Ireland and Scotland. Today, you can see barely half a mile along the coast of Man as clouds shapeshift over the landscape. Bus 4B, on the way back, takes a scenic route past Braaid, an iron age and Viking settlement in the hills. In Douglas, there's time for lunch before the ferry departs. At The Vibe, a plant-based cafe that opened in 2022, there are candles and wild wood anemones in jam jars on the table. I eat spiced soup that comes with a little typed note telling me to be a rainbow. Then the ferry, called Manannan of course, powers back to Liverpool over a misty silver sea, blasting its foghorn.
The trip was provided by Visit Isle of Man with train travel provided by Avanti West Coast. Tickets from Crewe to Liverpool Lime Street from £22 return. Tickets for foot passengers on the Liverpool-Douglas Steam Packet start at £21.50 each-way.