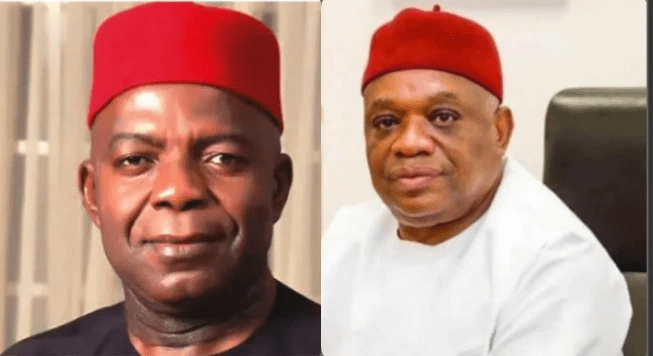 Kalu, a chieftain in the All Progressive Congress, APC, issued a goodwill message on Thursday, March 23, 2023, in Abuja, applauding the political maturity demonstrated by candidates of all political parties during the election.
In his message, Kalu called on Abia people at home and abroad to join hands with the governor-elect in rebuilding the state for the betterment of the people.
He also urged politicians to shun undemocratic actions and place the collective interests of the Abia people above personal ambitions.
Abia people have spoken – Orji Kalu congratulates Alex Otti

"I congratulate Chief Alex Otti of the Labour Party (LP), who emerged victorious in the last Saturday's governorship election in Abia state," Kalu said.
"The people of Abia State have spoken with their votes, and as such, Abians, regardless of party affiliation, must rally support for the governor-elect."
Kalu expressed his optimism about Otti's abilities, citing his antecedents in the private sector.
"Judging from his antecedents in the private sector, I am optimistic that Otti will bring to bear his administrative acumen in piloting the affairs of Abia State."
What you should know

Senator Kalu, a former governor of Abia State, revealed this while fielding questions from journalists, on Tuesday, March 21, 2023, calling on Nigerians to pray for him and he made public his bid for the Senate Presidency.
Currently 101 Senate slots have been filled with the ruling APC having the majority seats, hence it is expected that the next senate president will be of the ruling party.
There are indications that the APC may zone the position of the 10th Senate President to the Southeast.