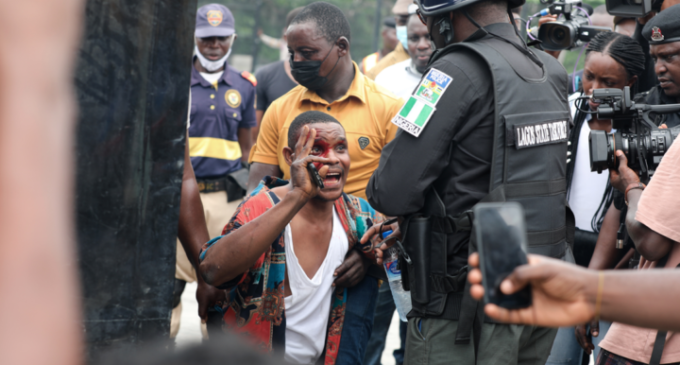 The governor made this known in a series of tweets on his Twitter page on Saturday, March 25, 2023, where he reiterated his commitment to upholding the rule of law.
Sanwo-Olu stated in the message that he had "directed the Honorable Attorney General to set up a meeting and pay him the compensation awarded by the court."
The background: This comes after the Lagos State Ministry of Justice had earlier argued that the state government was right to appeal a High Court judgement that awarded the money to the victim.
Recall that on March 14, 2023, the court had ordered the state government to pay the sum of ₦5 million to the ride-hailing driver as compensation for the torture he reportedly suffered at the hands of security agents at the Lekki Toll-Gate on October 20, 2021, when the#EndSARS anniversary procession was afoot.
His counsel, Inibehe Effiong, had issued a statement on Friday, alleging that the Lagos State government was challenging the judgement of the High Court over "lack of evidence for the torture."
"He was tortured and pepper-sprayed by officers of the Lagos State Neighbourhood Safety Agency and policemen," Inibehe had argued.
Meanwhile, a statement released by the Public Relations Officer of the Justice Ministry, Grace Alo, earlier on Saturday stated that the state government opposed the claims of the applicant during the hearing of the matter.
"As is customary when a judgment is delivered against the State Government, the counsel handling the matter is enjoined to file an appeal (a right provided by the Constitution) along with an application to stay execution of the judgment in order to protect and reserve the rights available to the State Government under the law," Alo added.
But, the governor said in his tweet that the government was ready to pay the compensation as ordered by the court.
Posting via his verified Twitter page, Sanwo-Olu said, "Good evening Lagos, as governor, I'm committed to upholding the rule of law and protecting citizens' rights with empathy and authority.
"I recently became aware of the case involving Mr. Clement Adedotun and the judgement by the Federal High Court, and I understand the impact this legal battle has had on him.
"After reviewing Mr. Clement's case, I've directed the Honorable Attorney General to set up a meeting and pay him the compensation awarded by the court.
"I've interceded in this instance in the interest of the public good, and requested that the state's Attorney General comply with the court's ruling."