New video suggests Mourinho's outburst was provoked
Some footage has emerged of the altercation between Jose Mourinho and the fourth official Marco Serra during Roma's 2-1 loss to Cremonense in Serie A which caused the Portuguese manager to lose his temper and get sent off.
Mourinho sent off against Cremonese
Roma were trailing away to Cremonese in Serie A when Mourinho confronted the fourth official and then had to be restrained by other Roma officials when he was sent off for the fourth time this season. However, this time the Portuguese gaffer was adamant that he was not at fault for the altercation but had been provoked by the fourth official, Serra.
After the game, Mourinho insisted that he was right in his reaction as Serra had spoken to him in a manner that he had never encountered before in his long career, branding the fourth official as a coward for not repeating his initial statements, and branding the statements made as unjustifiable.
After the game, Mourinho stormed the referees changing room demanding Serra apologise and/or repeat the things that he had said that got Mourinho infuriated, but he did not get his wish and instead threatened legal action against Serra.
What Serra allegedly said to kick-off Mourinho spat
Mourinho had asked if there would be any of redeeming an audio recording of the incident involving Serra and himself but was promptly told that the recording did not exist.
The reason was that fourth officials were not constantly recording and Serra was not recording at the time of the conversation.
However, a pitch side recording of the incident has emerged that appears to show Mourinho approaching Serra to ask why a foul had been given against Marash Kumbulla to which the fourth official allegedly replied, "Mind your own f**king business."
In the melee that ensued, it is also alleged that Serra further provoked Mourinho saying, "they all take the p*ss out of you, go home.' after he was sent off.
The issue is still fresh in the minds of Serie A fans, even as Mourinho gets ready to serve a two-match ban, including missing Roma's crucial tie with Juventus.
Related content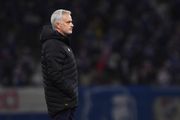 The Portuguese tactician will not be on the touchline when his AS Roma side host the Old Lady on Sunday.