Gay rights activist, Bisi Alimi has said that no one in Nigeria will make heaven.
Alimi shared his thoughts via a post on his Insta stories on Thursday January 13.
According to him, Nigerians wish for rapture like they are sure they will be granted entrance into heaven. Alimi maintained that no Nigerian will be making the kingdom of God if it was truly existing.
He wrote: "The way Nigerians beg for rapture to happen, you will think they already have admission letter to the so called heaven. But I got news for you! No one in Nigeria will make heaven (that's if there is anything like heaven in the first place), Not even ghetto heaven."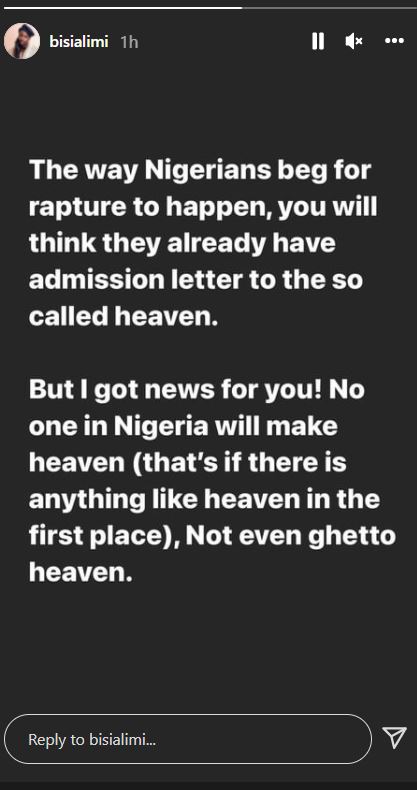 Recall that Alimi recently declared that he was Lucifer and asked people to bow and worship him.
Meanwhile, a bottle water seller has warmed the heart of many after he was captured sharing money to prison inmates in traffic.
According to Ojo Emmanuel, an Instagram user, who captured the moment, the incident happened in the Ajah area of Lagos.
He also noted that the water seller gave over 70 percent of the money to the prison inmates who were being transported in a Nigerian correctional service bus. Read more
Download NAIJA NEWS app: