There's more to traditional Irish bars than their vernacular design or their location on almost every street corner and village green inIreland. Behind their distinctive facades is an elusive character that has barely changed over the centuries: the rustle of the newspaper on a Sunday afternoon, the banter from the bartender or the gentle thud of a perfectly drawn pint of stout on solid, time-smoothed timber.
Yet, they have never been at greater risk. Despite thwarting the epidemic of McPubs on Irish shores, or even the arrival of global chains with localised shamrock branding, the traditional pub is in steady decline with more than over 21% of premises having closed since 2005. However, their future has recently started looking a little brighter. In 2022, the Cobblestone Bar in Dublin scored a minor victory against the big guys by successfully battling developers' plans to turn it into a hotel.
This year the Vintners' Federation of Ireland has further stepped up its bid to protect these bastions of tradition (and tourism magnets) by seeking international support. It has applied to Unesco to assist with their preservation, much in the same way Vienna has protected its coffee houses, by categorising them as part of Ireland's intangible cultural heritage.
We've rounded up six of the best places that showcase all the qualities of the great Irish pub.
O'Sullivan's bar, Crookhaven,Co Cork, established 1933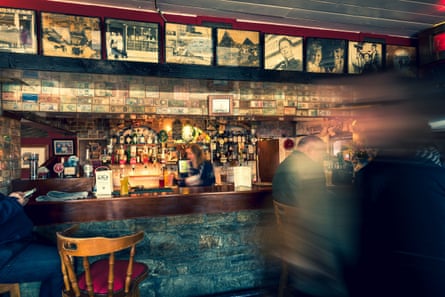 Offering the most southerly pint in Ireland, this plaster-rendered pub wakes each morning to the cry of seagulls and water lapping against Crookhaven pier. It's midway along the rocky ridge of Mizen Head , in an area of outstanding natural beauty. The peninsula's famous south-westerly weather station and ocean footbridge is only six miles away, which puts it right on the map for summer road trips and a thriving seasonal trade that spills outdoors when the sun shines.
As a fourth-generation family business it has evolved over the decades. While it retains a grocery shop, the post office has closed, which has happened in many villages recently. The interior has clear slate flooring, plenty of high stools and a rustic brick bar clad in currency. Expect friendly service from owners Dermot and Linda, with good-quality sandwiches and an extensive range of beer – which, of course, includes County Cork's landmark stout – Murphy's.
Tynan's Bridge House, Kilkenny, est 1703
This distinctive cobalt and cornflower-blue building overlooks the River Nore on a crammed row that dips and dives with the street's contour, close to Kilkenny Castle. Its history is almost tattooed on to the fixtures and fittings, with previous owners names and purpose of business etched on to the mosaic tiles and solid oak. This is further corroborated by the spice and grain drawers at the old shop-front entrance.
By the early 19th century, as was typical of its time, Tynan's operated with a pharmacy and grocer on site. Those days are recalled in the granite countertop, the tongue-and-groove panelled ceiling and the leaded stained glass panels. Yes, musicians and modern conveniences break the time warp spell, but in the dim light Tynan's Bridge House is a paragon of the early 1900s Irish bar. Of course, if that isn't enough, the selection of whiskey and craft beer along with the friendly service is equally impressive.
Leonard's bar and grocery, Lahardane, Co Mayo, est 1897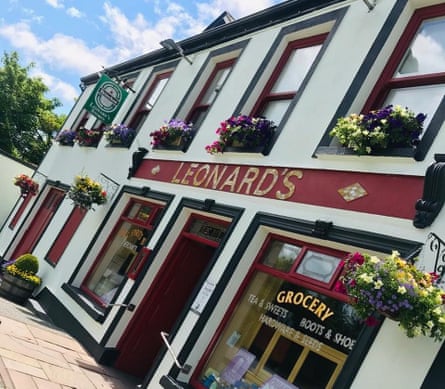 Set in the Windy Gap, a narrow winding stretch of road between Wild Nephin park and Lough Conn in County Mayo's lush countryside, Leonard's grocery and bar has been run by the same family for 80 years. Current owner JP recently overhauled the premises without compromising its integrity. Flagstone flooring, an open fireplace and warm timber furnishings offer a homely retreat from the exposed landscape.
Where not original, the fixtures hail from historic buildings. The sash windows, countertops, fireplace panelling and doors are all reclaimed, allowing the property to retain its character without falling into disrepair or appearing shabby. The grocery and hardware store is not a gimmick like some of the faux-shops attached to tourist-oriented premises in locations such as Killarney or Galway. Its honeycomb shelves offer anything from livestock supplies to fresh food for a picnic in the hinterlands.
J O'Connell, Skryne, Co Meath, est 1840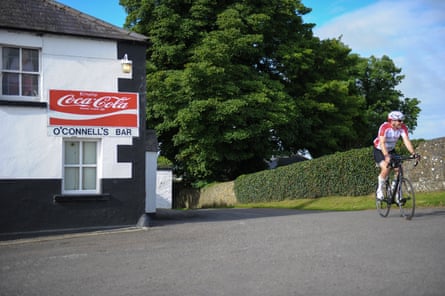 J O'Connell's is in the heartland of Tara, the kingdom of high Irish royalty, in the shadow of a ruined medieval church tower at the top of Skryne Hill. Yet it took a Christmas television commercial for Guinness to bring this 183-year-old family business to prominence, in 2004. Despite all that notoriety, J O'Connell's has retained links to its roots, which have been lovingly curated by each generation of proprietor, right up to present owner Rachael O'Connell.
Hallmarks from the past are everywhere: the vintage beer taps, the warm glow from a cast-iron fireplace, an antiquated public phone, pale Victorian panelling and the ticking of an old oak wall clock that measures the passing of each well-spent moment, just as it did a century ago. Of course all of that would amount to nothing if the beer wasn't top notch – but, as the Guinness commercial puts it, it's the home of the black stuff, so of course it's full on silky-smooth perfection.
Nancy's bar, Ardara, Co Donegal
Established 1900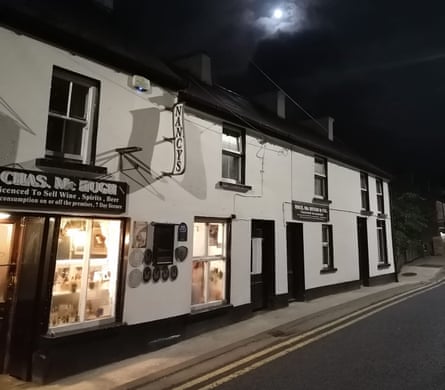 Seven generations of the McHugh family have operated this landmark pub in the village of Ardara, where almost every public building appears to be dedicated to the tweed industry or to hospitality. The hilly coastal backdrop to the north of the Glengesh mountain pass offers visitors an opportunity to explore spectacular landscapes and sights such as nearby Assaranca waterfall.
Nancy's location by a sandstone bridge in the centre of the village is a natural meeting point. It's a charming whitewashed two-storey building that is almost 200 years old, and today it's a gathering place for musicians. Its low-panelled ceiling, rustic furnishings, chalky plaster and crammed bar counter give that unique country pub essence. Seafood straight from the Atlantic fishing trawlers at nearby Killybegs is a specialty – try the oysters, seafood linguine or chowder.
Tom Collins bar, 34 Cecil Street, Limerick City
est 1932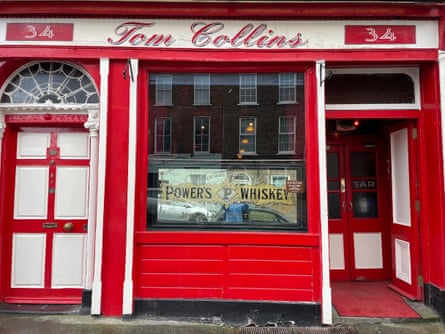 The red-and-white candy cane facade of Tom Collins bar is a minute's walk from Limeric's busy O'Connell Street, but it belongs to another, quieter time. It's the quintessential old-timer's bar, with no television or wifi, just the timbre of civilised conversations from a gathering of ageing hipsters and a cross-generation trendy set who have discovered its appeal in a world of generic design pubs.
While the building dates from 1780, the front, with its intricate fanlight, arrived in 1890 and the interior, designed in the years that followed, has a restrained Edwardian elegance. The decor has shades of claret, ruby and walnut, with moody paintings and a hefty bar counter which patrons once had to go under to reach the toilets. There's a narrow teak staircase, mirrors, wooden panels, a low beamed ceiling and an alley with outside tables. There's a fine selection of gin from Plymouth to Dingle and plenty of cold beer on tap. The property recently changed hands but the new owners operate other old bars in the city, so its fate is secure – for now.