There's a light breeze cutting across the North Sea as we step out on to Aldeburgh beach and make our way across the shingle towards the distant silhouette of Maggi Hambling's Scallop shell. The 13ft high steel sculpture, a tribute to the composer Benjamin Britten who lived and worked in this Suffolk seaside town, will mark its 20th birthday this year. It ruffled feathers when it first appeared but, two decades on, it feels as much a part of this coastal landscape as the beached fishing boats and piles of lobster pots.
With perfect timing the sun appears from beneath a low bank of clouds, turning everything golden. In summer you're likely to find the Scallop being used as a climbing frame or windbreak – which is exactly what Hambling intended – but today we have only the seagulls for company as we slowly circle it, the low rays of afternoon sunlight playing on its rippled surface.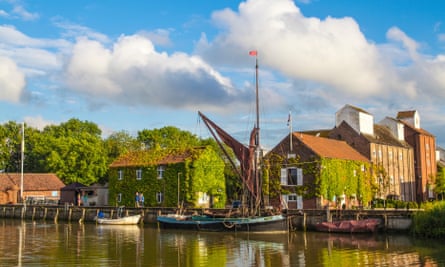 Spring is the perfect time to visit Aldeburgh. Its huge beach and even bigger skies still retain a mournful beauty and it's not too cold or crowded either. On the colourful high street, shops and cafés are doing a brisk trade. Nowhere more so than The Suffolk, a brand new restaurant-with-rooms recently opened by George Pell, a director of London's L'Escargot. Pell fell in love with the seaside town in the summer of 2020 while running a seaside off-shoot of L'Escargot. When the freehold of the 17th century building on the high street came up for sale, he swapped Soho for Suffolk permanently.
The restaurant, Sur-Mer, opened last summer to great acclaim. Six stylish guest rooms followed in January and have been booked up ever since. Rooms take their names and colour palettes from local beauty spots – ours is Orford Ness, after the wild shingle spit south of Aldeburgh, and is decked out in restful shades of sea green which echo the North Sea views from the window. There's pretty wallpaper, soft white bedlinen, antique furniture, a Roberts Radio and a huge bathroom stocked with L'Occitane products.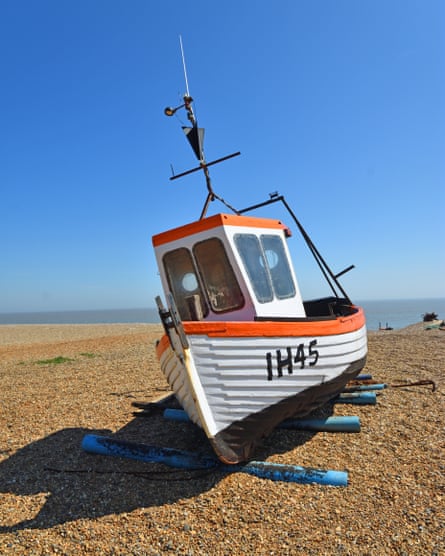 You'll also see local placenames on the restaurant menu, which showcases Suffolk's excellent produce – from Butley Creek oysters and dressed Suffolk crab to Baron Bigod cheese from Fen Farm Dairy. On a Saturday night, the place is buzzing with a mix of weekend visitors and locals, and it's easy to see why. My starter of seared scallops with pickled fennel, followed by halibut fillet with a lobster velouté is beautifully cooked and delicately flavoured, while my daughter makes short work of half a grilled native lobster with garlic butter and fries.
The next morning we drive to nearby Snape Maltings. This complex of Victorian industrial buildings on the banks of the River Alde is home to a world-leading concert hall and a cluster of independent shops, galleries and cafés. It's been on my radar for a while but previous visits to Aldeburgh have always been in summer when the pull of the beach outweighed any desire to explore further afield.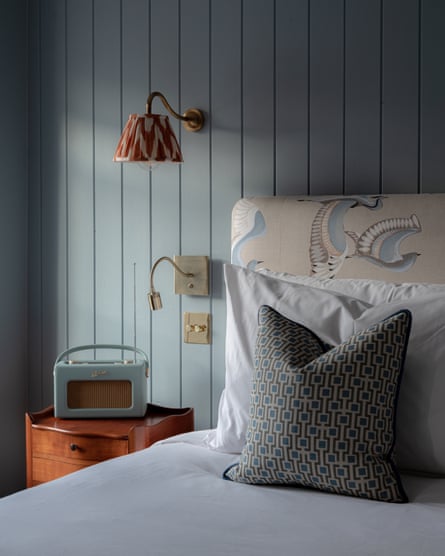 From the Maltings, we set out across the marshes to the hamlet of Iken, where the ancient church of St Botolph seems to float like a ship on the surrounding wetlands. As we follow the boardwalk through shivering reeds and muddy creeks alive with the sound of curlews and other waders, it's easy to see why Britten was so inspired by this landscape. The Red House, the home he shared with his partner Peter Pears, is still closed when we visit (it has since reopened) but this proves to be the only downside to our pre-season break – and the perfect excuse to come back soon.
Joanne O'Connor stayed as a guest of The Suffolk (the-suffolk.co.uk). Double rooms from £192 a night B&B
Three recently opened hotels with a sea view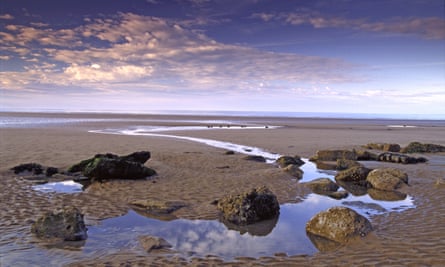 The Caban, Pendine Sands, Carmarthenshire In the early 1900s, the seven-mile-long beach at Pendine Sands was a favoured spot for motor racing and several world record-breaking attempts were held here. The Caban is a new family-friendly beachfront property, with 14 rooms and a restaurant with sea views. It's next door to the new Museum of Land Speed, which will open in early summer.
From £120 a night, cabanpendine.wales
No 42 by GuestHouse, Margate, Kent Boutique hotel group GuestHouse will open its first seaside outpost in Margate in June. Housed in a Victorian seafront building, some of the 21 rooms will have sea views and private balconies. Expect record players in rooms, a spa, rooftop bar and beachfront café serving organic food.
From £155 a night, guesthousehotels.co.uk
The Tongue Hotel, Sutherland This former 19th century sporting lodge has had a major overhaul and will reopen this spring with 19 guest rooms and a refurbished restaurant and bar serving seasonal Highland produce. With breathtaking views over the Kyle of Tongue, it's the perfect stopover on Scotland's scenic North Coast 500 route.
From £149 a night, tonguehotel.co.uk