The sky is an infinite blue without a wisp of cloud as we make our way through a small woodland towards a lake covered with lily pads. Hayden, a musician-turned-lifeguard for the weekend, swats away rogue dragonflies with a Japanese fan as he delivers a very laid-back safety talk. Then we are all allowed to plunge into the lake's depths where, according to the little people in our party, any number of "dragons may lie".
"Can we stay here forever," asks Jemima, my five-year-old, as she clambers out of the water, having avoided the "dragons" by sitting on one of our paddleboards, and stepping on to the wooden deck.
We are at the Good Life Society's Summer Camp during a heatwave and the emerald lake has become our salvation from the crispy heat.
Inspired by the wholesome vibe of classic American summer camps, this event in the attractive walled garden of the Hawarden Estate in Flintshire, close to the English border, has a relaxed mini-festival vibe.
Words such as "Grow" in neon-graffiti are emblazoned on red brick walls, providing a bright backdrop to the greenhouses and vegetable beds.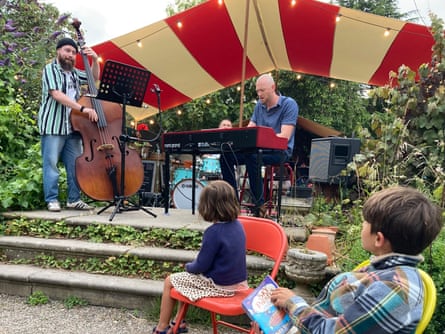 Guest numbers are limited to 125 and with the glorious weather, intimate bohemian feel and packed schedule of arty workshops and classes, we feel as if we have shed our manic, urban, child-focused weekly routine and found a parallel world of adult-focused activities and mindfulness. Even the Instagrammable pictures that the setting demands must be taken are left to be shared another day.
Our home for the weekend is a pre-erected bell tent (there is an option to pitch your own) with a comfortable four-poster bed and camp beds for the children. The bell tents are positioned close together, perhaps in an attempt to encourage guests to socialise. In our case it works: our children become instant friends with a couple near us and their playful dog.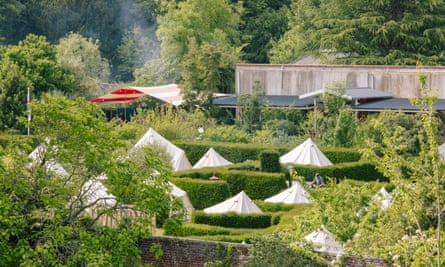 With our wheelbarrow of belongings emptied into the tent, we start to explore our surroundings ready for a long weekend of relaxation, good food and perhaps learn a new life skill or two.
The three-day programme is made up of a number of workshops, from bushcraft to printmaking and vintage photography, all led by experts. We particularly enjoy a film graphics workshop run by Annie Atkins, who has worked on a number of Wes Anderson films among other things. All the events (posted on a blackboard near the bar and also accessible online) take place on the estate, which was once the home of Liberal prime minister William Gladstone and is now the part-time residence of his great-great-grandson Charlie and his family, who run the camp.
Immediately there is an air of shackles-off relaxation. Children are not the primary focus of the Good Life Society – but they are safe, entertained and soon off making friends. Everything is centred on grownup downtime, allowing us to decompress and move at a much slower speed.
While the children race around playing hide and seek, ball games and exploring their surroundings, we, too, start getting to know the other guests, whether we're lounging in one of the gigantic, colourful bean bags, or mooching and mingling during various classes.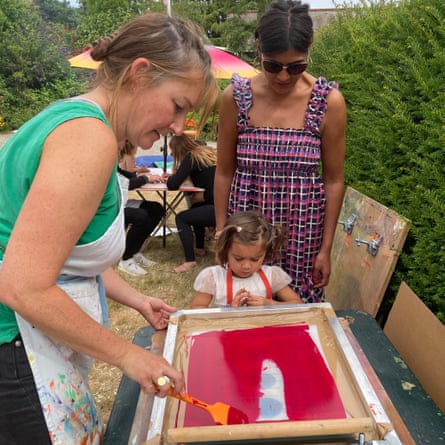 In the evenings comes one of the highlights, the food, which is included in the ticket price. It's cooked in an outside kitchen by an army of chefs – including Charlie's daughter Xanthe – who can be seen busily chopping, shredding and slicing a delectable array of ingredients.
As the light fades and fire pits start to glow across the grounds, guests head towards the covered barn and its long wooden tables for a communal meal. It's pretty good on the first night, but on the second, things are taken up another notch when dinner is cooked by renowned chef Thomasina Miers. She treats us to succulent lamb on a bed of celeriac and swiss chard with green slaw, followed by a tangy Basque lime cheesecake.
Afterwards, there is music on the bar turned stage under a fun striped awning, with local beer, cider and soft drinks available. As the night draws in, guests begin to peel off to put children to bed. Some, having successfully managed the task, return to join others around the fire.
Meeting interesting new people and getting into the natural ebb and flow of adult conversations with strangers can sometimes feel like a pipedream while immersed in the daily routine of school runs, work and home life. For us this is a blissful step change out of normality, and our chats around the campfire last late into the night with two young Danish friends who have come over especially for this weekend, a Californian having a UK pitstop after travelling across Europe and a wonderful Scottish couple who are Good Life devotees.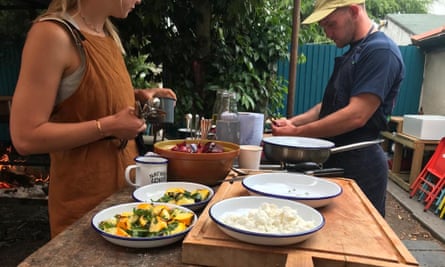 There is also time for some solitary mindfulness, complete relaxation with a reflexology massage under a tree, and I am up with the sparrows for early-morning yoga classes in the ruins of medieval Hawarden Castle.
One afternoon, I persuade the family to join me for a group yoga session, which sees much falling about giggling, and the inevitable call of nature for one of the kids. And though there's a heatwave, we can't resist following our yoga session with a family bath in the communal wood-fired hot tub. Soon other guests are queueing for their chance for a dip.
This is camping, glamping actually, with a unique, grown-up purpose. And I begin to feel a sense of wellbeing and togetherness that has eluded me for some time. The trip comes just as we begin to break free from the tentacles of the Covid pandemic, and to mingle with people again feels joyful. Having just shared one of the worst experiences of our lives, we are all here sharing a wholesome experience, and there is something really special about that.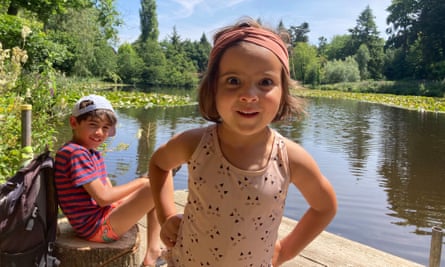 The camps have been running since 2014; the idea being to create a weekend that didn't rely on music headliners but emphasised instead ideas, crafts, the outdoors and food.
Charlie says the camps "grew very quickly" before they realised a "big festival was not something we wanted". They deliberately started making the event smaller and smaller, ensuring the land remained wild and organic, managing its environmental impact and focusing on giving a "high- value boutique festival" experience.
That experience does come at a price when the quality is top notch and the scale is small, but Charlie feels the facilities, the excellent food, and that sense of being a tailored event, put the Good Life Society "in its own class".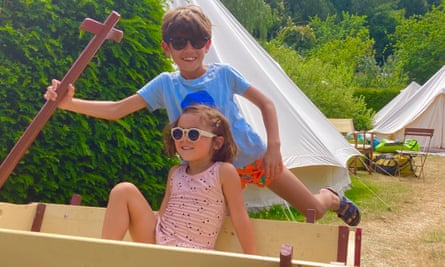 "It worked from the off because people genuinely want community," he says. "A lot of our guests are actually quite gentle, introverts – people who just want to hang out somewhere wild and organic, wander around and swim. And making things is the greatest kind of meditation and medicine people can have.
"The concept of the camp is about community and like-minded people. It is about creating a slightly different way of life, an intense friendliness and discovery – with people genuinely making lasting friendships."
The trip was provided by the Good Life Society, whose three-night Summer Camps this year run every weekend from July 7-31. Weekend tickets without accommodation cost from £312.50pp, tickets with camping pitches from £330pp adult, £190pp child. Prices include dinner and all activities, workshops and evening feasts by guest chefs. For those who can't make the summer weekends, there is an option to camp at the Hawarden Estate