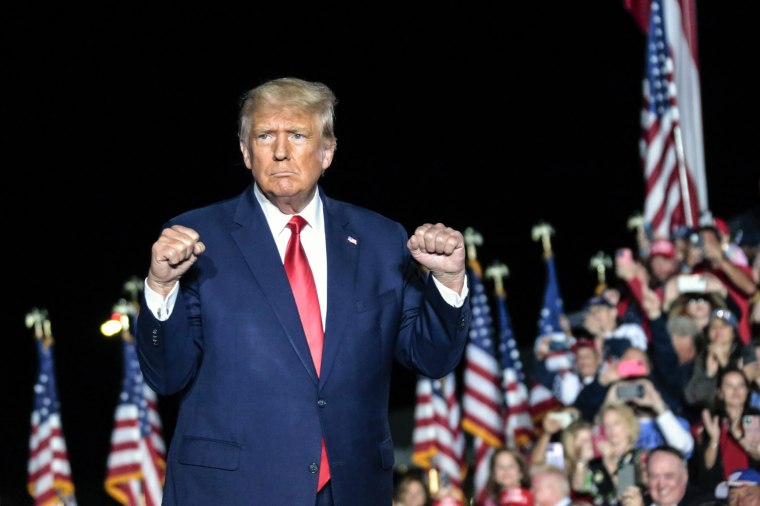 Former US president, Donald Trump has confirmed he will return to New York City today ahead of his court appearance for allegedly making hush-money payments to porn star Stormy Daniels.
Trump said he will leave his Mar-a-Lago estate in Palm Beach, Florida at midday, and will land at New York's LaGuardia airport before spending the night at Trump Tower in Manhattan.
He will then attend his arraignment at 2:15pm ET tomorrow, before returning to Florida to make a statement from Mar-a-Lago at 8:15pm ET.
Mr. Trump, 76, is facing charges related to hush money payments made to a porn star before the 2016 election.
The exact charges he faces are not yet known but they will be read in full when he appears at the Manhattan Criminal Courts Building at around 14:15 (19:15 BST) on Tuesday.
Some reports suggest the indictment includes around 30 charges related to a $130,000 (£105,000) pay-out to adult film star Stormy Daniels that was made in an attempt to buy her silence over an alleged affair, just prior to the 2016 election which he won against Hillary Clinton.
"I will be leaving Mar-a-Lago on Monday at 12 noon, heading to Trump Tower in New York," Mr Trump wrote on his social media platform Truth Social.
Barricades and riot control equipment have already been set up in the Big Apple as cops brace for the former president's arrival on Monday afternoon, April 3.
Trump's followers held their own demonstrations near his Mar-a-Lago home on Sunday while a beefed-up law enforcement presence was seen outside Trump Tower and the Manhattan Criminal Court ahead of the historic proceeding on Tuesday.
Mr. Trump is expected to be released on bail and will return to his Florida home Mar-a-Lago on Tuesday evening, where he plans to deliver remarks at 20:15 local time.
He is the first US president in history to be charged with a crime but has repeatedly denied wrongdoing.
The years-long investigation has been led by Manhattan District Attorney Alvin Bragg, a registered Democrat, who Mr Trump says is leading a "political prosecution" aimed at damaging his run for the presidency in 2024.
"We're ready for this fight. And I look forward to moving this thing along as quickly as possible to exonerate him," one of his lawyers, Joe Tacopina, told ABC News on Sunday.