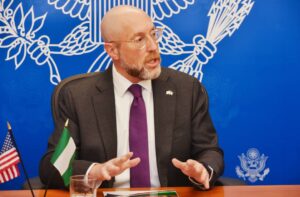 David Greene, Chargé d'Affaires of the U.S. Embassy in Nigeria, disclosed this to the News Agency of Nigeria (NAN) on Sunday in Abuja. The envoy spoke while fielding questions in view of the growing moves by countries to form global alliance towards introduction of new economic trade separate from the western systems.
According to him, every country has right to choose who it has relations with and what other organisations, multilateral groups it associates with, saying each state has sovereign rights to do that.
"We believe that any multilateral gathering should be advancing the clearly articulated principle of the UN chatter with regard to territorial integrity and respect for sovereignty.
"Any multilateral group should take seriously the obligation to try and advance the principles and articulated universal declaration of human rights to improve the functioning of individual state or lead to greater success of any country, any multilateral group, in terms of meeting the aspirations of its people.
"So, the U.S. truly believes in multilateralism and whether Nigeria does not join the BRICS, that is a decision for Nigeria."
He said the U.S. President, Joe Biden, had at several public functions reiterated his administration's resolve to deepen its alliance with Africa. He explained that the U.S. would do more to advance U.S.-Africa ties, U.S. Nigeria ties and global ties.
Greene further described global alliance as "the ability of countries that want to partner to advance their development and success in line with their aspirations.
"We believe that it is true that alliances and coalitions are international relations that can really help move the world forward in a better direction with regards to our engagement in Africa.
"The BRICS are not a factor in that regard, we have established a strong strategic people-to-people ties across the continent.
"We have strongly been good since then and our commitment to deepen economic engagement are in particular, to advance and promote African voices on a global stage.
"We rallied the G-20 to include the African Union, the most recent G-20 meeting in India; we are working with partners to unlock the $200 billion in World Bank and IMF resources to address the kind of challenges that we all face.
"We are working to unlock the $600 million, hopefully in private investments and infrastructure in the next couple of years, as part of our global partnership for infrastructure global investment.," he said.