It may be a biting satire, a daring piece of social commentary and an irony-drenched exploration of the corrupting power of wealth. But as they take in the savage script and clever direction, viewers can't help but think: the White Lotus has some lovely hotels.
The award-winning HBO comedy-drama has been a runaway success due to its entitled characters, sharp scripts and glamorous backdrops.
Another big draw is the location, with the fictional White Lotus luxury resorts chain set in sunshine-infused Hawaii in season one and Sicily in season two.
In season three White Lotus will move to another exotic locale, believed to be Thailand.
"The director went out early this year and scouted a few places including the Four Seasons in Bangkok, Koh Samui, Chiang Mai and Chiang Rai," a spokesperson from the Tourism Authority of Thailand told the Guardian.
Given the previous seasons were shot in Four Seasons properties, the above seem likely contenders. But rumour has it location scouts have also visited The Siam Hotel Bangkok on the city's fabled Chao Phraya River, the Rayavadee Krabi in the south and the Raya Heritage – a small hotel set in a verdant garden on the banks of the Mae Ping River in the northern province of Chiang Mai.
South-east Asia does not just do luxury hospitality, it defines it – the perfect choice for hedonists craving peace of mind. Thanks largely to hotelier Adrian Zecha, who in 1988 opened the Amanpuri on Phuket's Pansea beach, Thailand is the fountainhead of the boutique hotel and stylish minimalism.
And staff at the Thai tourism board will surely be rubbing their hands with glee at the idea of millions of viewers around the world thinking about visiting the beautiful locations shown in the series, even if they hope the clientele will be a little more likable.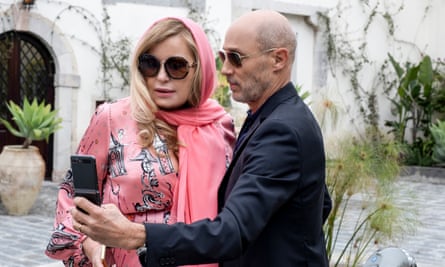 The theme for the series is thought to be spirituality. Series one tackled money and entitlement; the second, sex, power and betrayal. And the ocean – a place to pose, soul search, find oneself or wash up dead – has been a series mainstay. The smart money is on the karst-flecked Krabi province, the rainforested island of Koh Samui or the country's spiritual core, Chiang Mai.
At Rayavadee Krabi, villas and two-storey pavilions poke through a coconut grove that spills on to an arc of fine-grain sand. There are butlers and spa therapists on call and caves and jungle paths nearby. The speedboat arrival across the Tiffany-blue Andaman Sea to the hotel's beach pier would make for a spectacular opening scene. And with a two-bedroom family pavilion with pool costing 64,500 baht (£1,500) a night this month, it is certainly exclusive enough.
Koh Samui, another beach setting flush with luxury resorts, sits snug in the Gulf of Thailand. The salubrious Four Seasons here is set in 42 acres (17 hectares) of lush landscaped gardens and villas have private pools. Guests can charter a boat overnight to the jungle-clad islands of Angthong Marine Park. A one-bedroom beach-front pool villa costs £1,500 a night this month, while a two-bedroom villa would set you back more than £6,000.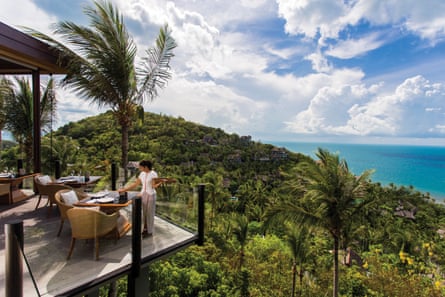 But perhaps the show will plump for Chiang Mai in the north, the centre of "spiritual wellness", home to some of Thailand's most fantastical wats. Location scouts will find big-screen belters in its stupa-crowned temple complexes, walled old town, sprawling night market – and green mosaic of jungles, mountains and rice fields.The Four Seasons Resort Chiang Mai, where a four-bedroom grand residence pool villa with live-in personal attendant costs £6,345 a night this month, would make the perfect White Lotus setting.
Thailand runs as far north as Chiang Rai, a mountainous region that borders Myanmar and Laos and is part of the infamous Golden Triangle – also ideal for a White Lotus plot line.
The Four Seasons Tented Camp Golden Triangle is magnificently opulent and wild, with a celebrated open-air jungle spa. Accommodation is in luxury hardwood-floored tents in spectacular countryside, and a river-skimming arrival by longtail boat on the Ruak River would be an ideal scene-setter.
Superior river view tents cost 112,765 baht a night for two, for a minimum two-night stay this month, with full board and with various inclusions. There are hot tubs on teak decks and lodges with private infinity pools gazing out over bamboo jungle. Adventures on offer include elephant walks and boat trips on the Mekong … it's a place where anything could happen.
And if White Lotus relocates here, it surely will.
The rise of set-jetting
While Covid raged, people around the world sat indoors, watched TV, and wished they could be elsewhere. Little surprise, then, that when the pandemic waned, those glamorous screen locations were exactly where we wanted to go.
"Set-jetting" – in which TV and film locations inspire tourist visits – is not new, with the Lord of the Rings movies (filmed in New Zealand), Poldark (Cornwall) and Game of Thrones (Northern Ireland, Iceland, Croatia and Malta) all credited with transforming the fortunes of destinations around the world.
But if the trend has been building for some years, it's been supercharged by the pandemic, say industry experts. Research by the travel giant Expedia last year found that movies and TV shows are now the top source of travel inspiration, cited by 39% of respondents. In Britain, 53% say they have booked a visit or day out in the UK inspired by movies or something they have seen on TV.
Condé Nast Traveller has named set-jetting one of its trends for 2023, noting recent Netflix data that 70% of programmes watched by a typical user were filmed in a foreign setting.
"Two-thirds of global travellers have considered [a TV-inspired booking] and almost 40% are ahead of the trend and have already booked trips after being inspired by their favourite show," said Expedia brands spokesperson Natalie Allard.
"You can expect lots of travellers heading to Paris in search of love [inspired by Emily in Paris] and going on a weekend break to Bath to explore classical Regency architecture fit for high society [thanks to Bridgerton]."
Examples of the lockdown TV travel boom are everywhere, from the Italian villa featured in Normal People, whose Airbnb bookings jumped after the series broadcast, to Monterey in California, home of Big Little Lies.
In the US, Google searches for Sicily roughly doubled late last year thanks to season two of the White Lotus. Downton Abbey has "transformed" the fortunes of Highclere Castle where it is filmed, according to its owner, bringing 1,200 visitors a day, while some visitor attractions in Scotland have seen their numbers soar by up to 92% thanks to Outlander.
Melissa Tilling, founder of Charitable Travel, said the firm had seen a rise in demand for experiential travel "and this includes immersion in the often dramatic locations of movies and television". She cited some of the recent Oscar-nominated movies as likely sources of inspiration for travellers this year, adding: "Customers love to experience authentic places, and movies like the Banshees of Inisherin depict incredible landscapes, cultures and heritage of days gone by that can be experienced now in Ireland."
Esther Addley