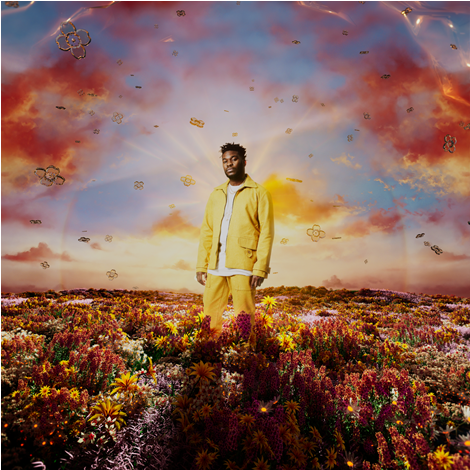 Nonso Amadi's R&B sound carries significant Western influences in his style and cadences. While Chike, who's perhaps the first artist to cause a stir in the R&B scene since Afropop domination added a determining cultural essence, Nonso Amadi was simply a cool kid who made beautiful music that was largely lacking a Nigerian touch.
While his music resonated with urban listeners in higher institutions and upper societal strata, it never quite caught on with average listeners who had their ears full with Afropop and Street music.
Nonso Amadi's debut album comes nearly a decade since he made his debut in the scene, and while different factors might account for this delay, he ran the risk of struggling to deliver a convincing project like several artists who hold out on their debut projects (Tekno, Naira Marley, Rema, Bella Shmurda ).
However, 'When It Blooms' packs a resounding quality that suggests the delay was a culmination of growth, both personal and artistic. And since Chike dropped 'Boo of the Booless' Afrobeats is seeing another top-level R&B project.
'When It Blooms' takes fans who have been part of the journey with Nonso on a familiar trip that offers in large pieces the talent they know he possesses and which they have keenly waited for the rest of the world to see. For new listeners, the album takes them on a first-time excursion to discover new beauties while trusting Nonso as the reliable guide to lead the way.
Nonso puts together a collection of beautiful records on which he explores love, desire, pain, growth, and gratitude. He embraces his Western influences and balances them with his Nigerian influences through an elevated stream of thought, reliability, and achieved collaborations for an exquisite album execution.
The album is an embodiment of his experiences that has culminated in all-round growth (Bloom) which he elected to display at a time when he feels ready to offer these parts of himself.
An R&B album, 'When It Blooms,' is underlined by genre-familiar topics of love and desire while exploring personal subjects.
Whether it be comparing his love to the highest mountains like in 'Killimajaro' or describing his feelings to be out of this world as he did in 'NASA', Nonso Amadi effortlessly floats on the beat while laying infectious melodies.
Even in love, his growth is highlighted, like in 'Pieces' feat Tay Iwar, where he undertakes to take the higher road in an R&B record that shows what the genre can become in Afrobeats. And in 'Shivers' feat Tamera where he conveys his desires through a fantastically sensual melody for an incredible record.
Personal growth is highlighted through a nostalgic look into his journey like he did in 'Nights In Maryland,' and 'Ease Up' where he talks about some of his Nigerian experiences and individuality.
When he talks about the bad governance that has plagued Nigeria in 'Ease Up', he explores the topic from the "I can't kill myself mindset" that's relatable to everyday Nigerian. The manner the music is conveyed (Amapiano, writing, delivery, and adlibs) creates a relatability between Nonso and average listeners even if his social status largely insulates him from their economic reality.
His coming of age and order of priority is highlighted in the London-produced Amapiano record 'Paper', where he impressively delivers in a sequence that shows his pockets like an Afropop act. His blend of Pidgin and English shows artistic growth through an infusion of street-relatable lines and the very Nigerian subliminal at doubters. If he uses 'Paper' as a metaphor for his laser focus on his success, he offers more context in 'Cali Was The Mission' where he talks about the personal and financial struggles that saw him cut off friends while dragging himself across the finish line.
One thing is sure, even while he struggled to find his feet, he continued to believe in his ability to reach the levels his talent can take him. It's this self-assurance that inspired belief in fans, friends, and associates. And even his parents who reluctantly supported his choice of career.
His story of growth and resilience is captured by his mother's words in the infectious track 'Thankful' where expresses his gratitude while reasserting that this is just the beginning. And it's this artistic, emotional, and nostalgic consistency that runs through the album and makes it an achieved album.
Was it Worth the Wait?

In an industry consumed by Amapiano and Afrobeats variants, 'When It Blooms' is a soothing breather that allows mainstream listeners to catch their breath and relax to an R&B album that offers much-needed sonic diversity at a time when the soundscape is at its most linear.
Artistic growth shines through compositions that connects with Nigerian listeners in an industry where R&B has a very tiny market share.
He's able to exquisitely balance the rich genre exploration through an impressive album sequencing that lets the music into each other for a wholesome listening experience.
The collaborations highlight his presence in both worlds as he offers himself to both Nigerian and international listeners while retaining a compelling identity and displaying all-around growth. He also tapped proven artists who delivered the needed elements in elevating the tracks sonically and strategically.
The production richly explores different genres with Nonso's Amadi's impressive ability to add a compelling Afro R&B factor for a common denominator that creates a sonically comprehensive project.
Overall, 'When It Blooms' excels on all grounds and delivers a project that awakens Nigerian listeners to the unlimited potential in Afrobeats.
Although listeners had to tarry for the arrival of his debut project, it was worth the wait.
For Nonso Amadi, it has bloomed, and his time is now.
Songwriting, Themes, and Delivery: 1.8/2
Enjoyability and Satisfaction: 1.8/2