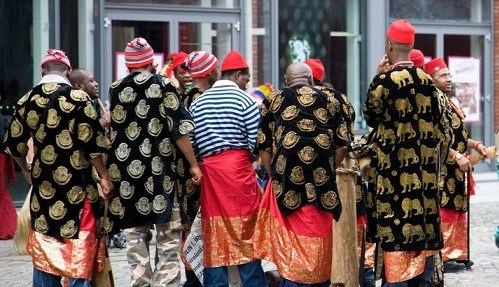 The group said that Ohanaeze Ndigbo Youth Council Worldwide was not known to the organs and structures of the group, adding that it was a strange non-existent mischievous contrivance for narrow personal interests.
Chief Emmanuel Iwuanyanwu, the President-General of Ohaneze Ndigbo stated this in a statement, issued by the group's National Publicity Secretary, Dr Alex Ogbonnia, on Tuesday in Enugu.
According to Iwuanyanwu, it is a thing of grave concern to every Igbo adult that of all the ethnic groups in Nigeria, only the Igbo that a few unrepentant wary transgressors is recruited to tarnish and belittle the only apex umbrella body for which the Igbo are known.
"The Ohanaeze Ndigbo and indeed the eminent sons and daughters of Igbo land have pleaded with such mercenaries to desist from lowering the hallowed image of Ohanaeze Ndigbo to their levels.
"This group has been reminded to no avail that Ohanaeze represents the Igbo history, emotions, collective consciousness and solidarity that should not be dragged to the mud and should not always place the Igbo on line with their unguarded youthful impetuosity.
"We, at various times, informed the unsuspecting public to ignore the mischief makers and media navigators who leech on the invaluable footprints of Ohanaeze Ndigbo to issue press releases for perverse and illicit pecuniary interests," he said.
The president-general added that the leadership of Ohanaeze Ndigbo had also taken a legal action of which Nnabuike was joined in the Enugu State High Court suit, marked E/878/2022.
He explained that Justice Uchenna Mogbo had issued an injunction restraining them from parading themselves as representatives of Ohanaeze Ndigbo.
"Since the above Court Order on March 12, 2023, which is still subsisting, these cohorts have continued to impersonate the group in most despicable forms.
"Curiously, Mazi Okwu Nnabuike has refused to honour the several invitations from security operatives to come and answer to criminal complaints of impersonation and perjury," he added.
Iwuanyanwu, therefore, urged the general public to discountenance any publication, press release or remarks emanating from Nnabuike or any of his agents as such publications did not in any way represent the position of Ohanaeze Ndigbo.
"He is both a usurper and an impostor; an interloper who has no authority or mandate to act or speak on behalf of Ohanaeze Ndigbo for any reason whatsoever.
"We appeal to the media to be circumspect in what they publish about Ohanaeze and to seek clearance from Ohanaeze leadership before going public.
"We also request any member of the public with useful information on the whereabouts of Mr Okwu Nnabuike to report to the nearest Police Station or to Ohanaeze Ndigbo Secretariat at No. 7 Park Avenue, GRA Enugu.
"We wish to warn that anyone dealing with Mr Okwu Nnabuike on issues relating to Ohanaeze Ndigbo Worldwide does so at his/her own peril," Iwuanyanwu warned.