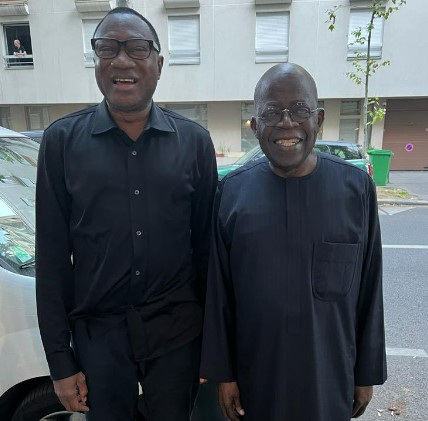 This dispute had led to a visa ban on Nigerians and the suspension of Etihad and Emirates airlines' operations to and from Nigeria.

The successful resolution of this dispute comes after President Tinubu's visit to the UAE president and extensive negotiations, which resulted in the lifting of the visa ban and the immediate resumption of air travel between the two nations.

In a statement issued on Tuesday, September 12, 2023, Otedola commended President Tinubu for his leadership in ending the protracted standoff between the two countries.

He acknowledged President Tinubu's understanding of the importance of fostering business relations between Nigeria and the UAE, emphasising the substantial economic opportunities that this would unlock.

Otedola expressed his optimism that Nigeria would once again regain its standing in the international community and attract foreign investments as a result of these diplomatic achievements.

"We must all commend Mr. President for his shrewd diplomacy in finally resolving this matter inherited from the last administration. Only a leader who understands the importance of business would appreciate the enormous opportunities to be derived from restoring business relations between both countries," Otedola remarked.

Furthermore, Otedola lauded President Tinubu for his bold economic policies aimed at reinvigorating the nation's economy. He highlighted that these policies were a testament to President Tinubu's unwavering commitment to the national interest, even in the face of challenges.

"Asiwaju Tinubu is working, Nigeria will work. I advise my fellow countrymen and women to be patient. With Asiwaju's policies, Nigeria will fully recover in a few years. We are witnessing the storm before the calm. Now, the storm is blowing away. I am certain, very soon, we'll begin to experience the inevitable calm and the progress that will naturally follow in a very short while," Otedola affirmed.

Otedola also emphasised the potential impact of the restoration of visa services and flights on Nigeria's stock exchange, predicting that it could attract significant investments from Middle Eastern investors.

He acknowledged that everyday Nigerians looking to travel to the UAE for business and leisure would benefit greatly from this resolution, praising President Tinubu for his exemplary leadership and courage.

"Indeed, Asiwaju has demonstrated leadership, and the difference in his style of leadership is like night and day. Tinubu is leading from the front, and his economic diplomacy, which we pray he sustains, is going to drastically change the image of the country, unlock foreign investments into the country, and improve Nigeria's perception internationally. We must all join hands to support this administration and start seeing things beyond our differences," Otedola urged.

The historic agreement between President Tinubu and UAE counterpart Mohamed bin Zayed Al Nahyan, sealed in Abu Dhabi on Monday, resulted in the lifting of the visa ban and the immediate resumption of flight operations by Etihad Airlines and Emirates Airlines.

A statement from President Tinubu's spokesperson, Ajuri Ngelale, revealed that this agreement also laid the groundwork for several billion dollars' worth of new investments into Nigeria's economy across various sectors, including defense and agriculture, by UAE government investment arms.

President Tinubu also successfully negotiated a new foreign exchange liquidity program between the two nations, the details of which will be unveiled in the coming weeks.

The dispute between Nigeria and the UAE had arisen in part from the ban imposed by UAE on nationals from approximately 20 African countries, including Nigeria, from entering Dubai in October. Emirates Airlines had also suspended its flight operations to Nigeria in December due to difficulties in repatriating blocked funds, estimated at $85 million at the time.