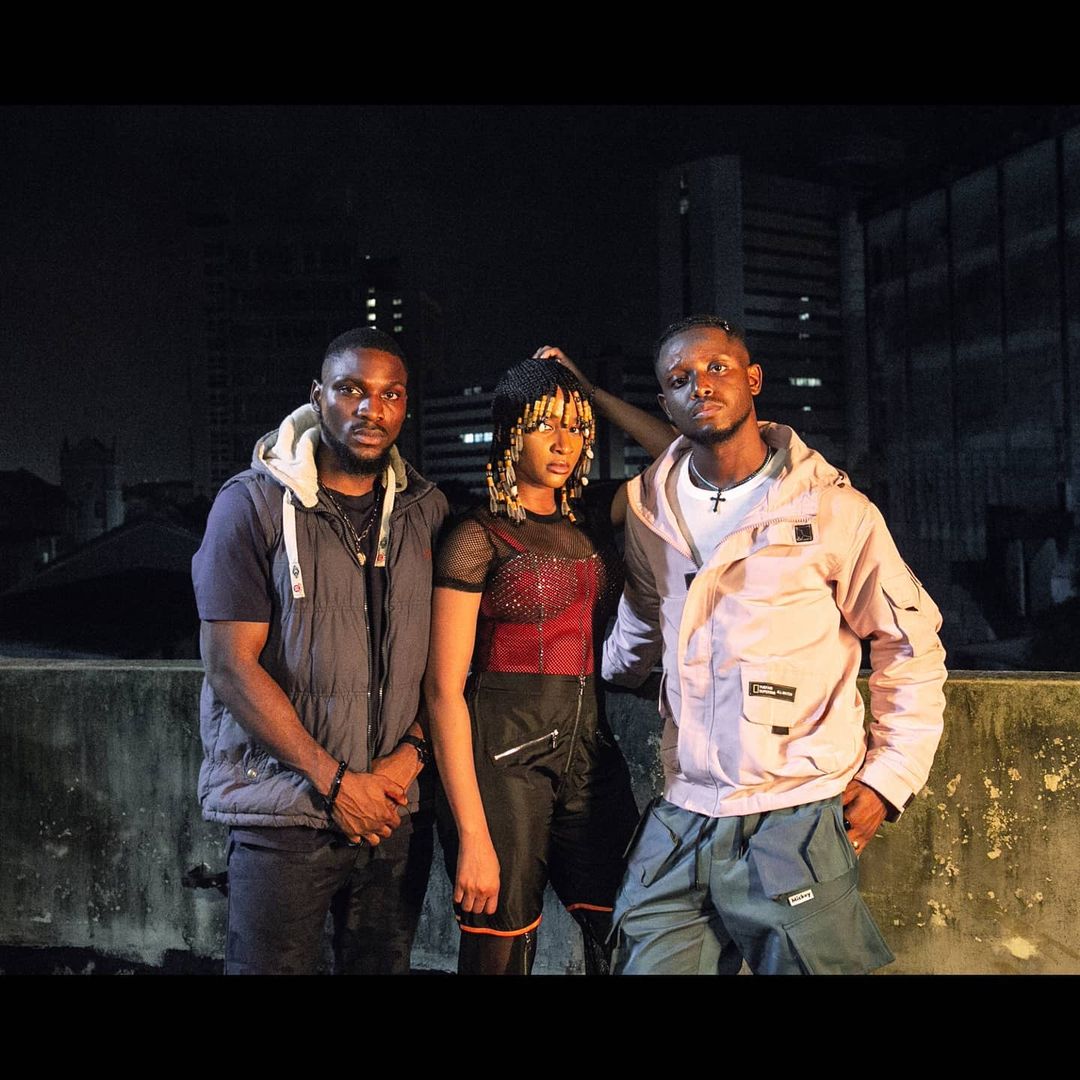 Almost six years later, she is now one of the leading Nigerian filmmakers, rebranding the industry with brilliant projects like 'Sugar Rush', Ayinla', 'Brotherhood,' and 'Trade'. Her latest is 'Gangs of Lagos', her second feature film and part of a three-year overall deal with Prime Video. The movie is co-produced by Osiberu and Kemi Lala Akindoju.
The crime drama, the first Amazon Original film from Africa, follows three friends chasing their dreams and destiny on the dangerous streets of Isale Eko. Tobi Bakre takes the lead as Obalola, supported by Adesua Etomi-Wellington (Gift) and Chike-Ezekpeazu Osebuka (Ify).
With these three leading the cast, the movie takes us into a relatable, layered crime world of corruption, drug dealing, protection rackets, human trafficking, theft, and murder.
Ahead of the movie's release, Pulse got to interview the three leading characters, who let us into their character development process, reactions to the script, stunt training, and more.
The interview is edited for length and clarity.
Landing the role

Tobi: I had done 'Sugar Rush' with Jade. I wasn't even sure what impression I had left, but we did a good job. After the project, Jade still sent me a little something, so I was happy because I must have done well. Then I got the DM, and she was like, 'Tobi, I have got a role for you, but this is not child's play.' She sent the deck, I saw the other actors in the movie, and I was like, 'Wait, what, ma?' and she was like, Yeah, i want you to play the character Obalola. I need you to really read the story and get ready for the work we have to do to bring this character to life, but I do believe you can do it.' The rest is history.
Adesua: Jade sent me a deck. She had told me about the story. I read it, and I was really excited. Then she told me that she wanted me to play 'Gift'. Most people would think that I would play Teni. It was equal parts scary and exciting for me because I'm very physical, but a lot of people don't know that. I like a good challenge because I get bored easily. So it was exciting to be able to play a role like this that scared me and play such a strong female character as well.
Chike: I got the call. I had seen a lot of Jade's projects already so I knew it was going to be good.
Preparing for the role

Tobi: Before shooting, I read the script, picking parts of my personal life that fit into this character. I internalised a lot of it. Then I took classes with Lala. Jade advised that I take classes with her, which I took very seriously, which is one of the processes no matter how short that birthed the actor actor in me. It kind of just opened something I didn't know was there. This character required so much. He wasn't talking a lot, but even when he was not speaking, you are still seeing something. You are still getting his energy and aura, so you can not fake it. Taking those classes, reading the script, and internalising it helped me stay in that character for the duration of the shoot. I hardly got out of character while shooting, so I did not have to think about what to say or what I had to do once they call action. It was challenging in my personal life because I became different.
Adesua: For the Yoruba side of it, I worked with Olarotimi Fakunle (Kazeem). My mother is Yoruba, so I speak and understand Yoruba, but there was a certain depth I needed so I worked with him on that. I also had rehearsals with Jade where we explored scenes, breaking the character down and trying to think of backstory that you're not even given. Playing this character, I was a lot more watchful of the people on the street. If you see the hawker on the streets and you think of gift and where she's coming from you, you almost pull little things whether it's characteristics about how she flips her hand or the way she says certain things. Then being having the chance to shoot in Isale Eko as well and feeling like we are like we are one big family. They would be like, 'Ah, Susu, Iyawo Banky.' So, I was picking things from people that I was seeing on the streets and also putting myself in my character's shoes, making up the emotions that I'm not told about, and thinking about what her life could have been. The character development work really really helped because I'm not from the streets. It was important to represent the people that are on the streets.
Playing a female gangster

Adesua: A woman is many things; she's not any one thing, so that is one of the things I really appreciate about Gift. You see her playful side when she's with her guys. You can see her work ethic when she is trying to deliver. You see how she breaks out of character when something happens to her best friend, and all bets are off. So, it was nice to see her vulnerable, strong, sad, and all of that because being vulnerable doesn't make you any less strong, and being physically strong doesn't make you any less sexy, so just towing that line and allowing her to come through in whatever way, whether she's wearing a baggy shirt or the outfit that she wore to the club with a lot of cleavage. When she's on the street, she's there to work, and in the club, she's there to boogie down and shake her nyash. When we think about strong female characters, we expect to see a tomboy who looks like a man and dresses like one all the time, but I wanted to be able to show a female character who is many things. I like that Gift unsettles you.
Getting chopped to death

Chike: The last time I got hit hard was probably in secondary school. I remember the first time we shot the axing scene, and the way I shouted, they were like, What is going on?' There were a couple of takes. I was submerged in the fake blood. For me, I was like, Make this guy no hit me this thing because I go fit bleed real real.' I literally had to act like someone who knew that he was going to die. Many takes in, we got it. It was one of the hardest scenes to shoot, aside from the coffin scene.
Dangerous fight scenes

Tobi: There are some scenes where the screams you see from my character were real, not dramatised. There were some scenes based on the stunts where we tried to cheat it with the weapons, but eventually, in the moment, with the adrenaline pumping, we took actual hits. There are two places: the fight with Zlatan (Kash), and the part where they hit my back, and that scream was legit. There was another time with myself and Kazeem, when we were fighting and hitting each other with planks. I gave him hard, he is a dark-skinned person, but that place was red. Sometimes, when I get to the set in the morning, they put me in fresh black and black and then tell me to roll on the floor. I learned to do a front flip without hands. I hadn't flipped in years before this role.
Adesua: I am an adrenaline junkie, so I was excited, to be honest, with the fight sequences, especially the one with the sticks. They were real sticks, and they had to hit me at some point, but not hard. They put mud on my face during my shot with the round fight. I learned how to flip with Tough as well.
Injuries

Adesua: You see the part where his character (Chike) dies, and I walk in. I stumble because my ankle twists there, but I keep acting, I keep going. Once they said cut, I screamed, and everyone ran to me. The heels were so high, and the floor was slippery. Jade was like, Why didn't you stop?' but I could not ruin the shot.
There was a scene where I had to stab a character, and somebody had to hide behind the camera and spray blood as I was stabbing. I could not keep my eyes closed, so the fake blood got into my eyes. My eyes were on fire. When we were done, Jade ran to me, and my eyes were completely red. They had to wash my face, and I had to stay for a little bit before going to get makeup done in 15 minutes and getting back again. I was in the middle of breastfeeding when I was doing the fight scenes, my boobs were full and someone punched me in the breast. It was the worst pain in the world.
Dreams

Tobi: Growing up, I wanted to be a footballer, but now I want to be one of the global actors from Nigeria doing great things.
Adesua: My dream as a child was to be an actor. I'm living my dream. My dream role after this is a dark one. You have seen me physically; I want you to see me bat shit crazy like 'Killing Eve'. Something that is not on the nose because people can not get away from the softness of my look so playing into that softness, but just being ruthless like behind the scenes.
Chike: I always wanted to be a solider, and be in the army. I also wanted to be in an action movie like 'Godfather.' With my journey so far with Nollywood and acting I think I'm getting closer to that.
'Gangs' of Lagos' is now streaming exclusively on Prime Video.