Wild camping is once again allowed on Dartmoor after the national park won a successful appeal against a ruling in a case brought by a wealthy landowner.
Camping had been assumed to be allowed under the Dartmoor Commons Act since 1985, until a judge ruled otherwise in January. It was the only place in England such an activity was allowed without requiring permission from a landowner.
The case hinged on whether wild camping counted as open-air recreation, leading to a long debate in the appeals court. Lawyers acting for Alexander Darwall, the landowner, argued it was not, because when camping one was only sleeping rather than enjoying a particular activity.
Lawyers for the Dartmoor National Park Authority (DNPA) and Open Spaces Society argued that backpack camping was an ancient tradition and popular pastime on Dartmoor, and gazing at the stars before waking to the sound of the morning chorus was certainly open-air recreation.
On Monday, the appeals court panel, consisting of Sir Geoffrey Vos, Lord Justice Underhill and Lord Justice Newey, ruled that wild camping counted as open-air recreation and should therefore be allowed on the commons.
Vos said: "In my judgment, on its true construction, section 10 (1) of the Dartmoor Commons Act 1985 confers on members of the public the right to rest or sleep on the Dartmoor commons, whether by day or night and whether in a tent or otherwise."
He said a walker who lay down for a rest without pitching a tent would be present for the purpose of open-air recreation. It was the same if that walker fell asleep. It made no difference if the walker rested or slept on a plastic sheet to prevent the damp, or in a sleeping bag to protect from the cold, or under a tarpaulin or in an open tent or in a closed tent to protect from the rain. The fact that a tent was closed rather than open could not convert the wild camping from being an open-air recreation to not being one.
Underhill said it was "a perfectly natural use of language to describe that as a recreation, and also as occurring in the open air, notwithstanding that while the camper is actually in the tent the outside air will be to some extent excluded".
Darwall, a hedge fund manager and Dartmoor's sixth-largest landowner, bought the 1,619-hectare (4,000-acre) Blachford estate on southern Dartmoor in 2013. He offers pheasant shoots, deerstalking and holiday rentals on his land, and has been using the legal system to try to bar wild campers from using the estate without his permission.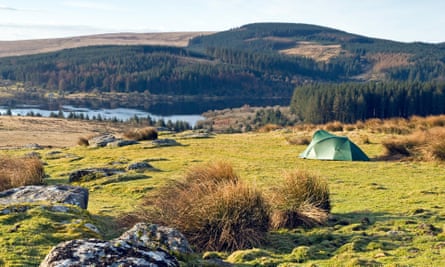 Previously, Sir Julian Flaux, the chancellor of the high court, ruled that the meaning of the legislation was "clear and unambiguous" in that it conferred a "right to roam" that did not include "a right to wild camp without permission". However, the appeals court noted that the Dartmoor Commons Act did not mention a "right to roam" but a right to "open-air recreation" if one entered the common on foot or horseback.
Lawyers for the DNPA appealed against the high court decision, arguing it hinged on a narrow definition of open-air recreation, where only activities such as walking, horse riding and picnicking were permitted. This could rule out activities such as bird-watching, landscape painting or stargazing, they argued. They also said it failed to take into account the historical understanding of the law, which many people, including the park authority, understood to mean a right to camp and leave no trace. The court granted it the right to appeal on this basis.
A spokesperson for the Darwall family said: "'We are disappointed by this judgment. This case highlights the many and increasing challenges we face in trying to protect the fragile environment on Dartmoor. Our mission was to conserve this special place. It is regrettable that our role as custodians is greatly diminished."
Kate Ashbrook, the general secretary of the Open Spaces Society, said: "This is an excellent outcome. We are relieved that the judges ruled unanimously and conclusively that open-air recreation includes backpack camping on the commons. We should like to see that right extended, and we shall campaign with other organisations to achieve this."
Lewis Winks, a campaigner with The Stars Are for Everyone, said: "A permission is not the same as a right – and today the court has seen sense and re-established people's right to camp without needing permission in Dartmoor national park. Fundamentally, this means that access to a night under the stars on one of the UK's most iconic landscapes now does not rely on the whims of individual landowners but is owned by ordinary people. We hope this will now serve as a blueprint for other places to follow suit."