Make the trip for …
Newmarket in Suffolk is the home of British horse racing, with equine attractions aplenty. There are the two race courses, the Rowley Mile and the July Course; the gallops where the horses are exercised; the National Stud, where they are bred; and Tattersalls, where they are bought and sold. There is plenty of art, too, but it is largely of a horsey nature – the Packard Galleries of British Sporting Art are full of paintings by George Stubbs and Alfred Munnings, and depictions of hunting, hawking, shooting and, of course, racing.
This summer, though, there is a new kind of art in town. The National Horse Racing Museum is one of three venues across west Suffolk jointly hosting a huge street art exhibition. The Urban Frame: Mutiny in Colour features more than 300 works by leading street and contemporary artists, including Banksy, Damien Hirst and Tracey Emin.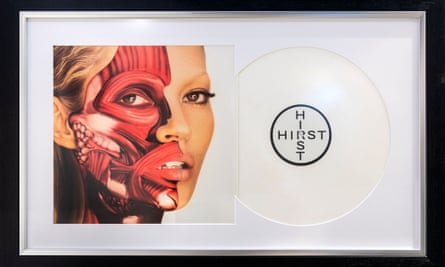 The Newmarket exhibition includes a world-first showing of The 7: Banksy Under Siege, replica lifesize "walls" created by the artist in war-torn Ukraine last November. The photographic reproductions are particularly poignant given that many of the actual walls have now been destroyed by the bombardment. The show also features two original works by Banksy: Hula Hooping Girl, from the wall of a beauty salon in Nottingham, and Love is in the Air, an anti-war image that appeared on the side of a garage in Jerusalem. The latter is being exhibited formally for the first time after being sold at auction for $12.9m last year, and will then travel to galleries in Amsterdam and Barcelona. Other exhibits includes Citroen Berlingo Van, a vehicle painted with 200 eyes by the artist My Dog Sighs; work by Blek le Rat, the father of stencil graffiti; cult contemporary artists the Connor Brothers, and big names in street art, such as Pure Evil, Stik and Kaws.
The two other venues, featuring work by many of the same artists, are Haverhill Arts Centre and Moyse's Hall Museum in Bury St Edmunds. Both are within easy reach of Newmarket – Haverhill is a half-hour drive, Bury St Edmunds a 20-minute train journey – and it is well worth visiting all three over a weekend. The Haverhill venue, a Victorian former town hall, has artists running free workshops in illustration and print-making, inspired by the exhibition.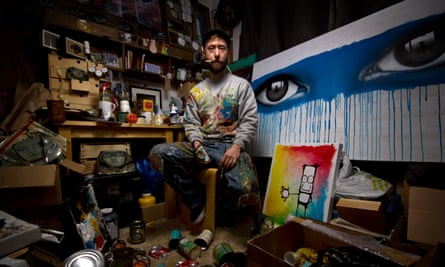 The exhibition at Moyse's Hall, a 12th-century building on the marketplace, is inspired by My Dog Sighs' use of found materials. The set dressing is borrowed from artists or created using crates and bricks, there are no paper labels – information is written or painted directly on to the walls – and other fixtures and fittings have been reused from past displays. This show also features a Banksy – Sandcastle Girl, which was painted on a wall in Lowestoft in 2021 – and a video of the artist in action, plus work by Grayson Perry, Keith Haring and many more.
The Urban Frame: Mutiny in Colour is at the National Horse Racing Museum and Moyse's Hall Museum until 1 October and at Haverhill Arts Centre until 12 September; £7 adults/£3 under-18s/under-12s free.
What now?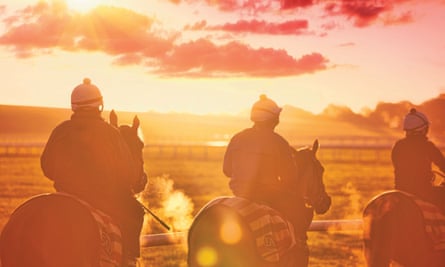 To coincide with the exhibition, the Newmarket in Colour initiative is bringing street-art energy to the town. Artists, community groups and children have created murals at sites including the memorial gardens and the leisure centre. Streets have overhead art installations of butterflies, shop windows have been specially decorated and bars and restaurants have created colourful dishes and cocktails.
Discover Newmarket runs guided tours of the town's main sites, including the gallops, a racing yard and the National Stud, where visitors can meet mares, foals and stallions, including the former champion Stradivarius.

The gift shop at Moyse's Hall has the biggest range of postcards, posters and limited-edition prints from the exhibition. In Newmarket, Treasures sells antique furniture and other vintage pieces, there is a weekly farmers' market at the Riverwalk Commons (Saturdays, May to October) and a monthly makers' market in the Market Square car park (next market 12 August).
When to go
Visitors can combine art appreciation with a day at the races – there are about a dozen meets before the end of September.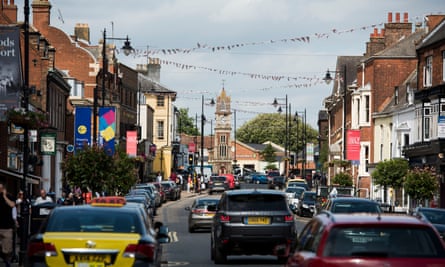 Get outside
The Stour Valley Path is a 60-mile walking route from Newmarket to Cattawade, near Suffolk's border with Essex. The first five miles, to Stetchworth, include a stretch along Devil's Dyke, a massive Anglo-Saxon earthwork that was once a defensive structure and is now a habitat for wildflowers and butterflies. On a clear day there are views to Ely cathedral, 14 miles away.
Drinks and dinner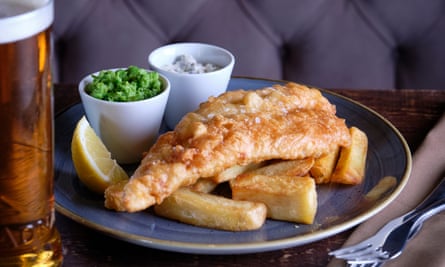 The Bull, a lively pub on the high street, has a beer garden, regular live music, sport screenings and a summer drinks menu that includes negroni sbagliato (£8). The Pantry, an all-day cafe, deli and restaurant, serves coffee and cake, brunch and lunch, and a dinner menu with dishes such as sea bream with samphire and a saffron and mussel broth (£17), or smoked squash risotto with sage and walnut pesto (£13).
In Bury St Edmunds, the One Bull pub serves beer from its own craft brewery, Brewshed, and wine from its shop, Vino Gusto – guests can sample a flight of five 50ml measures for £10-13. The food menu changes every six weeks or so and there are daily specials – the summer menu (until 3 September) includes crab tart with parsley sauce (£9.50) and salmon with new potatoes and bean fricassee (£18.50).
Stay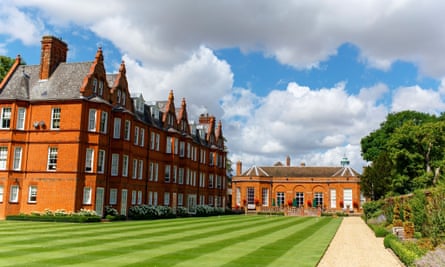 The Jockey Club Rooms is a country house with beautiful gardens, right in the centre of Newmarket. It has been a private members' club for the horse racing elite for more than 250 years, hosting royalty and at least six prime ministers. It is crammed with racing memorabilia and equine art, including more paintings by Stubbs and Munnings. A few years ago it opened 18 stately rooms to the public (doubles from £100 B&B).
The Three Blackbirds in Woodditton, about four miles south of Newmarket, is a 17th-century pub with nine cosy but contemporary rooms in a newbuild barn (doubles from £82). It also serves fantastic seasonal food, from vegan options (bubble & squeak, with roasted vegetables, £17) to Suffolk rump steak with black garlic aioli and triple-cooked chips (£23).
Getting there
There are direct trains to Newmarket from Ipswich (56 minutes) and Cambridge (21 minutes).