When a lifeguard asked police to remove Lotte Mies for bathing topless at her local indoor swimming pool in Berlin it was a move that would inadvertently trigger a rule change allowing all women, including visiting female tourists, the freedom to go topless while swimming in the city.
The decision to change clothing rules around swimming in the German capital was made after two women, including Mies, filed complaints about being thrown out or barred from the city's pools for refusing to cover up, and demanded the same rights as their male counterparts when bathing "oben-ohne" (topless) at the city's public pools.
Berlin resident Mies, 33, filed a discrimination complaint last December against a Kaulsdorf indoor pool after she was barred from entering topless. The 33-year-old said she emailed in advance and was given permission to bathe topless. However, when Mies went topless at the pool, staff asked her to leave.
Mies said she protested that the rules only prescribe wearing "commercial bathing suits", and that she was allowed, but police were summoned and the lifeguard who originally gave her the green light barred Mies from the pool.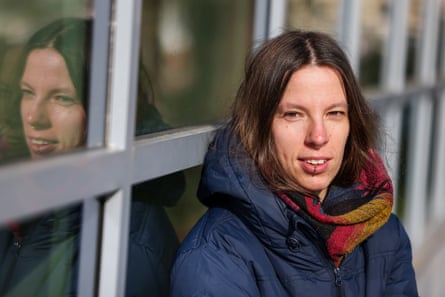 Mies described feeling humiliated as she left, and contacted the city's department for justice, diversity and anti-discrimination. Her complaint prompted a rule change after the department found that Mies had correctly interpreted the bathing rules, and the decision was made to explicitly add that anyone regardless of gender could be topless at the public pools.
"I felt very humiliated and that my dignity as a human being was discriminated against because I am a woman, so that certain things and premises were denied to me due to unwritten moral codes that men imposed on women that are still in effect today," Mies told the Guardian.
"It is important to understand that not allowing people the same rights because of their gender is not a matter of opinion, but an act of structural sexism. Everyone should have the same opportunity and, above all, freedom of choice, especially when it comes to their own body," Mies continued.
The German capital's authorities made clear that the existing rule, which insists that bathing costumes cover the genitals, applies to all visitors, and that anyone can choose whether to wear a full swimsuit or just bottoms at the pools.
"Now it has been laid down that this regulation is always applied in accordance with the principle of equal treatment of all genders. There are no longer different ways of interpreting the common practice, but every guest of our swimming pools now has the possibility to decide for themselves which kind of swimwear they want to wear," Berlin's swimming pool operator Berliner Bäderbetriebe said.
The move follows a similar incident in Berlin in 2021 in which a French woman living in the city, Gabrielle Lebreton, was ordered to leave a water park when she refused to cover up her breasts while sunbathing. It sparked a "no nipple is free until all nipples are free" protest, where women rode bikes topless and men wore bras to demonstrate against the double standard.
Mies celebrated the rule change but said there was still a lot to be done to secure equal rights for all genders.
"The main problem with the whole topic is that women are exposed to permanent sexualisation and this is equated with sexual availability, and they are treated accordingly.
"This is the real scandal. We as a society must counteract this socialisation and stop treating women as objects and [start] respecting them," she added.
Germany's relaxed relationship with nudity sometimes shocks tourists, but for locals this new policy isn't surprising or, indeed, new. For more than a century Germany has practised Freikörperkultur (FKK), which translates as "free body culture".
Arnd Bauerkämper, associate professor of modern history at the Free University of Berlin, told the BBC that at the turn of the 20th century, nudism was part of a movement to be closer to nature.
Bauerkämper said that for Germans living in communist East Germany, FKK functioned in part as a "safety valve" – a way to release tension in a restrictive state by providing an opportunity for some "free movement".
Berliner Bäderbetriebe said it welcomed tourists to the city and its public pools, and asked guests to practise "mutual respect and tolerance" when visiting.
Veteran German leftwing politician Gregor Gysi spoke out a few years ago about his disappointment in the decline of FKK, saying it was the "pornographic gaze" of westerners after reunification that destroyed the pleasure of nude bathing. He called on local German governments to do more to protect FKK areas of beaches and spas.
Berlin is not the only German city to allow topless swimming. In May 2022, Göttingen in Lower Saxony, central Germany, became the first German city to allow female topless swimming in its indoor and outdoor pools, after a swimmer who identified as male was turned away from a public pool for wanting to swim with their chest bare. Following a brief test phase the regulation is now being continued permanently.