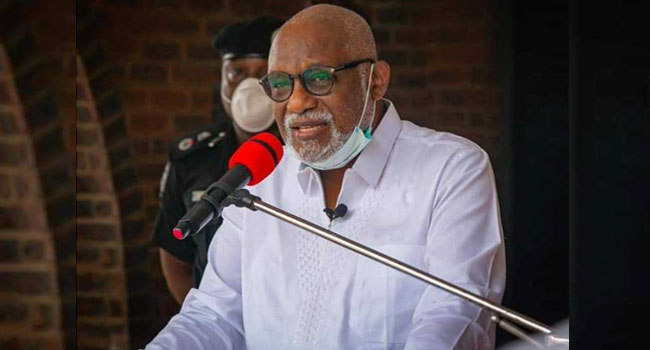 In a statement made available to journalists on Wednesday in Akure, the Publicity Secretary of APC in Ondo State, Alex Kalejaye said that rather the APC-led government inherited a dilapidated economy from the immediate past PDP government.
"It is unbelievable that the opposition party could accuse the APC-led government of "grounding the state in six years.
"The party further alleged that the ruling party has crippled the health and education sectors.
"We concede the right to mourn to the opposition party after losing political giants like Dr Olumuyiwa Adu, and his team, but twisting facts smacks of political frustration.
"The APC wishes to remind the good people of Ondo State that the ruling party inherited a dilapidated economy, six years ago.
"As at the time, it was impossible to pay salaries for over seven months, and several sectors were in disarray," he stated.
Kalejaye stated that within six years of dedication, commitment and good governance, the APC-led government had changed the narratives.
"All the unpaid salaries by the PDP have since been cleared by the administration of Gov. Oluwarotimi Akeredolu.
"The thought of employing workers into ministries and departments was alien to the PDP-led government, for eight years.
"The APC government has so far employed thousands of workers, to boost the existing workforce and enhance the effectiveness of various government organs. Unlike in the days of PDP, they are enjoying regular payment of salaries," he stated.
The APC publicity secretary added that the current administration inherited poorly funded state universities.
"The Olusegun Agagu University of Science and Technology, Okitipupa, was the worst hit by the criminal neglect by the PDP administration while Adekunle Ajasin University, Akungba Akoko was not well attended to.
"The institutions are healthy today, with regular funding.
"Ours is the only state in the South-West zone without a teaching hospital. The APC-led government has taken the bold step to remedy the situation, building two teaching hospitals simultaneously.
"The projects are almost completed," Kalejaye stated.
The APC spokesman asked PDP to seek out the magic wand of the Idanre-born political tactician, Ade Adetimehin, the state Chairman of APC, instead of hurling insults, wailing and kicking.
"The state chapter celebrates the arrival of Dr. Olumuyiwa Adu, a lawyer and former formidable candidate of the PDP for Akure South/North Federal Constituency, Hon. Bode Obanla, Dr Kolawole Joseph, and the entire political family of the late Hon. Omolafe Adedayo into our fold.
"They are enviable political assets any day, and will add value to the ruling party.
"The Ondo State APC, under the chairmanship of Mr Ade Adetimehin, has built a virile chapter, that is appealing, not only to the active players in the PDP, but other political parties.
"We appeal to the PDP to demonstrate maturity in handling the loss," he said.
He assured those still willing to join the APC that the party's doors remained open "in selfless drive to build a more economically prosperous state.''