Donald Cerrone goes down via submission after Jim Miller trapped him in a guillotine chokehold and he immediately announces his retirement.
The man they call 'Cowboy' lays his iconic cowboy hat as well as his gloves in the middle of the octagon, confirming his decision to call time on an unbelievable career.
"I don't love it anymore. It's hard for me to get up. This is the longest camp I've had in a long time. I just don't love it anymore," he tells Joe Rogan.
"I'm going to be a movie star baby. It's time to bow out. This is the perfect event. Sold out crowd, Las Vegas, one hell of a career, hopefully one day I'm in the Hall of Fame.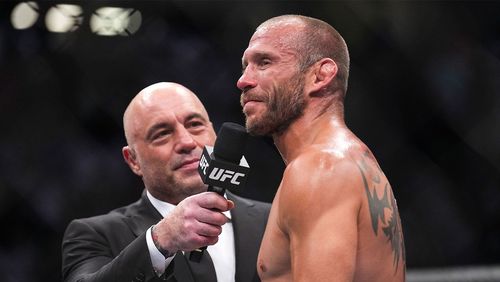 "Thank you so much, UFC."
Miller, who is now the UFC's record holder for most wins with 24, is full of praise for the retiring icon.
"It's hard to follow that," he says.
"Donald is a legend and a guy that I look up to, I'm a fan of. We're definitely going to miss him.
"I wanted the opportunity to share the octagon again with him because I knew that this fight would be special. You're never going to see the numbers like this fight ever again."