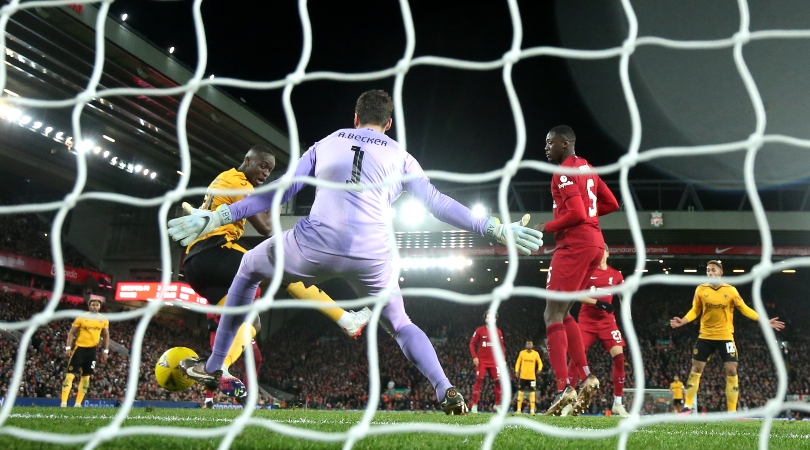 Wolves were left frustrated as what they thought was a perfectly good goal was ruled out in their FA Cup tie away to Liverpool on Saturday night.
Toti Gomes turned the ball in from close range after 82 minutes and had his effort stood, it could well have been a winner for Julen Lopetegui's side as it would have put the visitors 3-2 ahead.
Instead, it was ruled out because the assistant referee had raised his flag to signal an offside earlier in the move when the ball was returned to the corner taker.
And unusually, there was no conclusive VAR footage available to prove whether the decision was correct or not, meaning it could not be overturned and the on-field call had to stand.
Lopetegui spoke to the officials after the match and later told ITV: "It was only to talk about the two goals. The offside that we had. We have seen it, the offside doesn't exist, I'm sorry. It's impossible. Someone has told him it's offside, but we've seen the images, it doesn't exist. Two touches are our players, and the second touch he doesn't want.
Wolves thought they had a winner but a VAR check eventually confirmed it to be offside❌You've got to feel for Toti here 😕@EmiratesFACup | #ITVFootball pic.twitter.com/uhXs3qkXH4January 7, 2023
See more
"The decision is wrong. I make mistakes every day, and sometimes they do too. Today we have the help of VAR, and it is a pity, because I'm sorry, it's not offside."
Also speaking on ITV, Liverpool manager Jurgen Klopp said: "I'm not sure about their third goal. We have one picture where it may look offside, but I can understand why they are angry about it. We don't want the VAR to just have one angle."
Wolves were also unhappy at Mohamed Salah's goal being allowed to stand. The Egyptian was in a clear offside position when the ball was played by new signing Cody Gakpo, but was not given offside because of an interception into his path by Toti. Salah duly converted and the goal stood.
Mo Salah puts Liverpool in front! Cody Gakpo's cross came off the head of Toti and found the Egyptian with loads of time to finish 👏@EmiratesFACup | #ITVFootball pic.twitter.com/TJg1A1kLSiJanuary 7, 2023
See more
"My opinion is we have to talk a lot with the referees about this sort of situation," Lopetegui said. "One player took advantage of his position, Mohamed Salah was offside before Toti touched the ball, so he got an advantage. Toti, of course, is only going for it because of the offside player.
"The referee heard us and was very polite, but it has happened now. We have to accept it. It is a pity because deserved to win against a fantastic team like Liverpool."
The two teams will now have to meet all over again in a replay at Molineux.